Matrox Imaging Announces New Distributor in Mainland China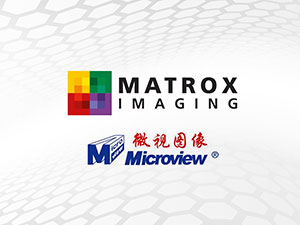 Expanded coverage in mainland China as of January 2019
MONTREAL — Matrox® Imaging welcomes a new Chinese addition to their global network of representatives. Attuned to the needs of their customers, Matrox Imaging stands by their five core advantages, ensuring customers benefit from a global network of distributors who offer complementary products and support, and integrators who build customized vision systems.
Mainland China
Beijing Microview Science and Technology Co., Ltd is a new distributor in the mainland China region. Headquartered in Beijing and with nine other offices across China, Beijing Microview has been in business for more than 20 years. Their sales representatives and engineers, including product managers, possess deep knowledge of the Chinese market as well as great familiarity with Matrox Imaging products. Beijing Microview Science and Technology will exhibit Matrox Imaging products at Vision Shanghai, booth 5442, taking place March 20 to 22, 2019.
"The addition of Beijing Microview is a great boon to the Matrox Imaging global network," says Chen Xu, Asian sales manager, Matrox Imaging. "Their experience in the region, and familiarity with not only Matrox Imaging products, but also our technical support team and system integrators, offers great advantages for our customers. We look forward to working closely with them in the coming years."
About Machine Vision Store
Started in 1994, Beijing Microview is a high-tech image application integration and solution provider, specializing in image processing, medical imaging, industrial inspection, traffic, security, aerospace, and other fields. With years of experience with imaging products, Beijing Microview delivers a complete service, providing excellent solutions by communicating with customers to meet their unique needs. An active participant in a variety of domestic and foreign meetings and conferences, Beijing Microview stays on the cutting edge of new technology. For more information, visit www.microview.com.cn/.
About Matrox Imaging
Matrox Imaging is an established and trusted supplier to top OEMs and integrators involved in machine vision, image analysis, and medical imaging industries. The components consist of smart cameras, vision controllers, I/O cards, and frame grabbers, all designed to provide optimum price-performance within a common software environment. For more information, visit www.matrox.com/imaging.