Matrix MXE-1300 Series Fanless Computers
Atom™ D2550 Processor-Based Fanless Embedded Computer

MXE-1300 delivers 3.5" HDD and rich I/O support in a compact package, ideal for digital surveillance applications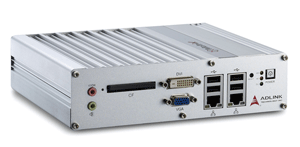 ADLINK Technology, Inc., a leading global provider of trusted I/O platforms, announces the release of its new Matrix MXE-1300 series of low-power fanless computers based on the Intel® Atom™ D2550 processor. Equipped with the Intel® Atom™ D2550 processor, the MXE-1300 increases processing power by 44% and graphics performance by 90% over the previous Intel® Atom™ platform. Featuring low power consumption, rich I/O capability, and large storage with 3.5" HDD support, the MXE-1300 series not only leads the market with its fanless, cable-free, and robust mechanical design in a compact form factor, but also makes an ideal application-oriented platform for digital surveillance, intelligent transportation, and factory automation applications.
3.5" HDD Support in a Compact Form
The ADLINK MXE-1300 series adapts a 3.5" standard height hard disk drive to a 210 mm (W) x 170 mm (D) x 58 mm (H) containment, providing the industry's most compact fanless system supporting 3.5" storage capability, significantly reducing storage costs and physical space requirements for high-resolution image processing and transmission applications.
Rugged Design
Featuring operating shock tolerance up to 100 G, an extended market-leading operating temperature range of -20°C to 70°C, and unique thermal design with zero cable management requirements, the MXE-1300 provides reliable performance in mission-critical and harsh environments.
Rich I/O Capability
The ADLINK MXE-1300 supports rich I/O interfaces, including six USB ports, 4 serial ports, 4 digital I/Os, 3 Gigabit Ethernet ports, and one each Mini-PCIe and USIM slots for wireless operation. The MXE-1300 accommodates three Intel® 82574 GbE LAN controllers for top performance and a multitude of features supporting diverse internet/intranet applications. In addition, the MXE-1300's four built-in digital inputs and outputs allow the most intuitive inter-device communication implementation anywhere.
The MXE-1300 also supports multiple OS, including Windows 7, Windows 7 Embedded, Windows XP, Windows XP Embedded, WinCE 7.0, and Linux.
About ADLINK
ADLINK Technology provides a wide range of embedded computing products and services to the test & measurement, automation & process control, gaming, communications, medical, network security, and transportation industries. ADLINK products include PCI Express-based data acquisition and I/O; vision and motion control; and AdvancedTCA, CompactPCI, and computer-on-modules (COMs) for industrial computing. With the acquisition of Ampro Computers, Inc. and LiPPERT Embedded Computers GmbH, ADLINK also provides a wide range of rugged by design Extreme Rugged™ and Rugged product lines including single board computers, COMs and systems.

ADLINK strives to minimize the total cost of ownership (TCO) of its customers by providing customization and system integration services, maintaining low manufacturing costs, and extending the lifecycle of its products. ADLINK is a global company with headquarters and manufacturing in Taiwan; R&D and integration in Taiwan, China, the US, and Germany; and an extensive network of worldwide sales and support offices.

ADLINK is ISO-9001, ISO-14001, ISO-13485 and TL9000 certified, is an Associate Member of the Intel® Intelligent System Alliance, an Executive Member of PICMG, a Sponsor Member of the PXI Systems Alliance, and a Strategic Member of the AXIe Consortium. ADLINK is a publicly traded company listed on the TAIEX Taiwan Stock Exchange (stock code: 6166).

Intel and Atom are trademarks or registered trademarks of Intel® Corporation in the United States and other countries. Microsoft and Windows are trademarks or registered trademarks of Microsoft® Corporation in the United States and other countries.