Matrix MXC-6000 Intel® Core™ i7 Processor-Based Fanless Embedded Computer
Matrix MXC-6000 combines high-end controller with expandable slot capability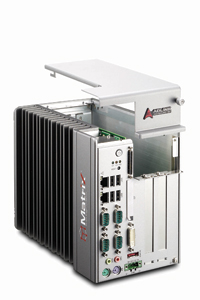 ADLINK Technology, Inc., a leading provider of embedded platform products and services, announces the release of its Matrix MXC-6000 series of fanless embedded expandable computers with high-end performance. Equipped with the Intel® Core™ i7-620LE 2.0 GHz processor and Intel® QM57 chipset, the Matrix MXC-6000 delivers best-in-class computing power for the most calculation-intensive applications, such as machine vision and signal processing. Featuring a -10°C to 60°C (14°F to 140°F) extended operating temperature range, the Matrix MXC-6000 boasts an innovative cable-free design, providing maximum reliability in harsh environments and extended functionality from two PCI/PCIe x4 slots.
The Matrix MXC-6000 is designed to deliver industry-leading durability with its cable-free internal architecture and extended temperature functionality in an exceptionally rugged and compact package. Vibration tolerance of up to 5 Grms and shock resistance up to 50G coupled with superior compatibility with ADLINK add-on cards and easy 3-step installation in PCI/PCIe x4 expansion slots using the Matrix's user-friendly design provide maximum reliability, durability, flexibility and trouble-free access for installation and maintenance.
The Matrix MXC-6000 further provides an internal USB 2.0 port, allowing deployment of license keys and/or password encryption through a connected USB dongle to enhance platform security. Also, an optional easy-to-install fan module provides additional heat dissipation if needed.
Available I/O connectivity for the Matrix MXC-6000 includes VGA/DVI dual display support, 16 isolated DI/DO channels, dual GbE ports, two software-programmable RS-232/422/485 ports (COM1 & COM2), two RS-232 ports (COM3 & COM4), four external USB 2.0 ports and an internal USB 2.0 port.
"More and more industrial applications are requiring high-performance platforms with compact size and flexible functionality, as well as the ability to operate in harsh environments such as those with high ambient temperature, constant vibration, and sudden shock. In machine-to-machine factory automation for example, a computing platform is required to operate inside another device, as a processing core or building block. With limited space and access to maintenance, the platform has to be extremely reliable and compact, while maintaining flexibility to provide wide varieties of functionality to match a wide array of industrial applications." noted Kenny Chang, Director of ADLINK's I/O Platform Center.
In addition to the ADLINK MXC-6000 series, the MXC-4000 with dual core Intel® Atom™ Processor D510, and the MXC-2000 with low power consumption Intel® Atom Processor N270 are also available. For more information on the Matrix MXC-6000, MXC-4000 and MXC-2000 series, please visit our website.
Pricing and Availability
The Matrix MXC-6000, MXC-4000 and MXC-2000 series are currently available at the following list price.

The Matrix MXC-6000 Series
Intel® Core i7-620LE 2.0 GHz
List price starts at $1,953.

The Matrix MXC-4000 Series
Intel® Atom™ D510 1.66 GHz
List price starts at $1,125.

The Matrix MXC-2000 Series
Intel® Atom™ N270 1.6 GHz
List price starts at $750.
About ADLINK
ADLINK Technology provides a wide range of embedded computing products and services to the test & measurement, automation & process control, gaming, communications, medical, network security, and transportation industries. ADLINK products include PCI Express®-based data acquisition and I/O; vision and motion control; and AdvancedTCA®, CompactPCI®, and Computer-on-Modules (COMs) for industrial computing. With the acquisition of Ampro Computers, Inc., ADLINK also provides a wide range of Extreme Rugged and Rugged Single Board Computers, Computer-on-Modules and Systems under the brand name Ampro by ADLINK. ADLINK strives to minimize the total cost of ownership (TCO) of its customers by providing customization and system integration services, maintaining low manufacturing costs, and extending the lifecycle of its products. ADLINK is a global company with headquarters and manufacturing in Taiwan; R&D and integration in Taiwan, China, and the US; and an extensive network of worldwide sales and support offices.

ADLINK is ISO-9001, ISO-14001, ISO-13485, and TL9000 certified, is an Associate Member of the Intel® Embedded Alliance, an Executive Member of PICMG, a Sponsor Member of the PXI Systems Alliance, and a Member of the AXIe Consortium. ADLINK is a publicly traded company listed on the TAIEX Taiwan Stock Exchange (stock code: 6166).
Embedded Vision
This content is part of the Embedded Vision curated collection. To learn more about Embedded Vision,
click here
.