Matrix Design, LLC Achieves Certified Servicing Integrator Status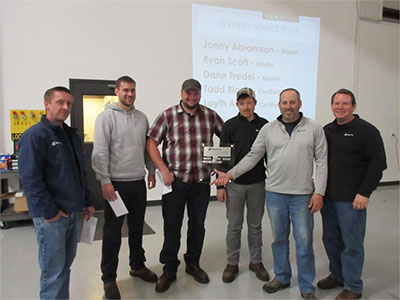 SOUTH ELGIN, IL. – Matrix Design, LLC announces their recent recognition as a FANUC Certified Servicing Integrator. FANUC provides this certification to Authorized System Integrators who have demonstrated mastery in knowledge of robot operations, programming, troubleshooting, maintenance and preventative maintenance. Matrix service engineers were required to pass a series of rigorous tests and meet several criteria in order to achieve this status.
As a result, Matrix now has several certified and master certified service engineers. "This achievement demonstrates our commitment to the Matrix goal of maintaining the best trained team in the Automation Industry," says Karl Dahlman, Operations Excellence Manager. "We are continually striving to grow and learn new skills both in our Service Department and throughout the company."
"This certification allows us to service and complete any warranty job on a FANUC robot while performing service on the rest of the system. It also requires us to stock standard FANUC robot spare parts, enabling timely repair and reducing downtime," said Doug Sands, Matrix Service Manager. "I'm grateful to have management's commitment and support when it comes to continuous improvement and I'm extremely proud of our engineers who have worked hard to achieve the service engineer and master service engineer certifications". Besides the servicing integrator status, Matrix is also a Certified Vision Specialist – a recognition of their mastery of, and commitment to, automated vision applications.
About Matrix Design, LLC
Matrix Design develops, builds and installs robotic automation systems and services to factories worldwide. An authorized FANUC robot integrator (ASI) and recently certified as an RIA certified robot integrator, Matrix is a leader in supplying standard and custom robotic material handling systems including machine tending (machine tool loading/unloading), part/tray exchange, inspection, palletizing, and robotic deburring systems.
Company Contact
Jeff Bennett - Vice President, Sales & Marketing
Tel: (775) 386-9782
PR Contact
Val Cureton, Press Representative
Tel: (408) 425-5025