Material Handling Guide
With consumer behaviour shifting towards online sales, and with material handling being essential for the efficiency of warehouse operations, it is unsurprising that the market is expecting to see significant growth during the coming years.
The global material handling market — which was valued at €23.3B in 2020 — is expected to increase at a 7.4% Compound Annual Growth Rate (CAGR) during 2021 and 2028. This will then result in an estimated market value of €38.4B by 2028. To further explore this market growth, Meili Robots has created a guide about material handling equipment and management to understand how warehouses can be optimised by improving the handling of materials.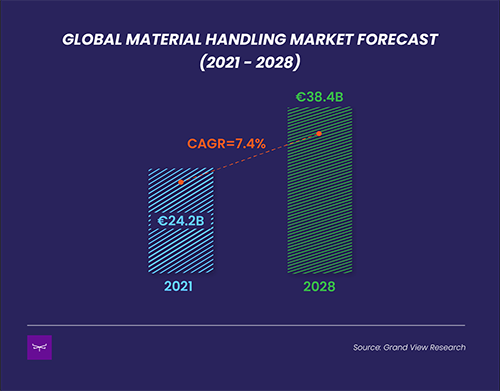 Types of Material Handling Equipment
Generally speaking, material handling can be divided into two main categories: manual and automated. As the names suggest, manual material handling involves manual labour, whereas automated material handling is carried out with the use of automation, technology, and machinery — often in combination with manual labour as well.
If we look a bit more closely, there are several types of material handling equipment to be distinguished in the supply chain. In their material handling guide, Meili Robots dives into these different types, which include:
Storage & Handling Equipment

Bulk Handling Equipment

Industrial Trucks

Automated Systems
The guide also lists down a number of tips for optimising the material handling processes of a facility as well as the pros and cons of the different types of material handling — hoping to make it easier for you to understand what solution works best for your facility's unique requirements.
The Essence of Navigation & Task Management
As provider of the universal fleet management system Meili FMS, Meili Robots also highlights the importance of a solution to the interoperability issues in today's robotics industry. For material handling processes to function properly, it is essential that the automated systems that are being used can work collectively. To find out more about this challenging subject, please visit Meili Robots.
Contact Information
Michelle Schlechtriem
Content Manager
[email protected]
Copenhagen, Denmark