Many Variants: FLEXPOINT® MV Series – 2017 Edition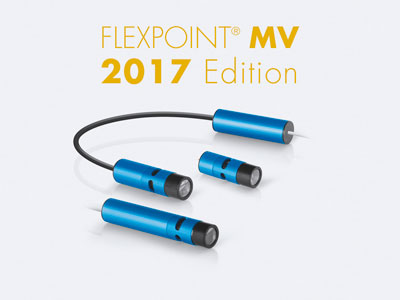 Bedford, NH: At LASER World of PHOTONIOCS 2017, LASER COMPONENTS will present a new generation of line laser modules for machine vision. The M18 threaded MV18 module is the latest addition to the successful MV series, while existing models like MVnano, MVpico and MVfemto have been re-engineered for better functionality and flexibility:
New focusing mechanism for stable beam positioning and low line positioning drift
New focusing options to match line thickness and depth of focus
COS4 correction for homogenous line performance in applications with a wide field of view
Low-priced fixed focus variants
Space-saving versions with separated optics and electronics
Optics-only versions for integration in camera systems
Versions with integrated microcontrollers and serial interface
For the first time, all the new models will be in operation at the LASER COMPONENTS booth B3.303.
About LASER COMPONENTS
LASER COMPONENTS specializes in the development, manufacture, and sale of components and services in the laser and optoelectronics industry. At LASER COMPONENTS, we have been serving customers since 1982 with sales branches in five different countries. We have been producing in house since 1986 with production facilities in Germany, Canada, and the United States. In-house production makes up approximately half of our sales revenue. A family-run business, we have more than 200 employees worldwide.