Mako Entry Level Camera Series
New entry-level camera series by Allied Vision Technologies now shipping. High quality and industrial ruggedness at affordable price.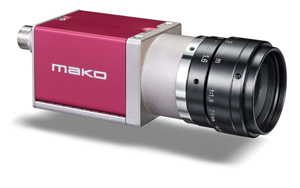 Allied Vision Technologies introduces the first six models of its new Mako camera family. The Mako is an ultra-compact digital camera for machine vision applications with a very attractive price/performance ratio.
Industrial quality down to the last detail
With its 29x29 mm footprint, Mako is one of the smallest cameras in the market. In spite of its small form factor and its low price, it is a true industrial camera fulfilling Allied Vision Technologies highest quality standards. Its robust metal housing is designed for high durability in tough industrial conditions. With best-in-class sensor alignment precision, Mako delivers the sharpest images to perform exact measurement and reliable inspection tasks.
All new Mako models are fitted with a GigE Vision interface with a screw-lock connector and power over Ethernet. They can be powered with the 24V voltage commonly used in automation machines. With four opto-coupled I/O connections (1x in, 3x out), they can be easily integrated and synchronized with other system components.
Best image quality with latest CCD and CMOS sensors
Mako cameras are available with the latest CCD (Sony) and CMOS (CMOSIS) imagers. These include the versatile CMV2000 and CMV4000 sensors from CMOSIS, which feature high sensitivity, fast frame rates, low noise and a global shutter. NIR versions of these sensors are also available for applications that require optimized near-infrared sensitivity.
The Mako camera family will be expanded in the coming months with more sensor variants and a version with USB3 Vision interface.