Making Light Work of Mobile Service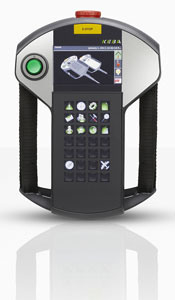 The industrial handheld operating devices of the KeTop T20 series are the lightest all over the world. With a weight of about only 1lb (half a kilogram) and due to their ergonomic design the handheld operation panels of KeTop T20 series offer easy and effortless operation, which is possible even with only one hand. This mobile terminal is available in 2 versions - as T20 techno and as T20 eco. Both types have a very high contrast, well-readable OLED display with WQVGA resolution, which is also available as a touchscreen.

The T20 techno is equipped with a programmable LCD keypad with tactile keys. This allows unlimited, custom keyboard layouts with individual key designs in different languages. Optimum operating performance is ensured. Furthermore an efficient user-guidance by targeted showing and hiding of keys can be achieved easily. This saves training effort and effectively safeguards against faulty operations. Thus the entire machinery can be operated with only one type of handheld control devices.

The T20 eco focuses on price-sensitive applications and features a sturdy membrane keyboard that can be customized according to customer´s requirements. For both CNC and robotics applications are special versions available.

All KeTop T20 models offer high processing power and best ergonomics in the robust, industrial designed housing. Various controls such as key switches, push buttons, hand, or potentiometer axis selector switch are available. Therefore optimal adaptation to the particular application is possible. The devices are suitable for control, visualization, and teaching and are particularly versatile.

The necessary performance provides a powerful, ARM Cortex A8-architecture-based OMAP3503 high-performance processor. Various interfaces, such as Ethernet, RS232 and RS422-C-A allow easy integration into existing automation systems. Furthermore all controls of CoDeSys Automation Alliance can be operated with KeTop T20. In addition, common bus systems such as CAN and Profibus as well as real-time Ethernet protocols such as EtherCAT and SERCOS III are supported. Easy customization, implementation and management of the user interface can be done with the user-friendly KeStudio ViewEdit which is including many turnkey widgets. Therefore graphical elements can be integrated easily; adjustments to the GUI according to customer´s requirements can be done conveniently and quickly.