Major Version Update of Robotmaster Robotic Software Now Available!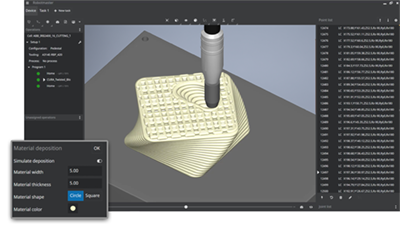 HANOVER, N.H.— Hypertherm, a U.S. based manufacturer of industrial cutting systems and software, today announced the release of Robotmaster Version 7.3 offline robot programming software with extensive features and enhancements designed to further simplify robotic programming. Additions found in V7.3 include:
Support for the newest CAD file types, 3D printing software, and third party plugs-in for software brands such as CATIA, SolidWorks, Autodesk Inventor, Siemens, Solid Edge, AutoCAD, Pro-E/Creo, Rhino, and more.

Performance improvements for faster data processing and robot code output when creating additive manufacturing paths in addition to post processor enhancements for major robot brands such as Kuka, ABB, and Fanuc.
The addition of new modules including a spray simulation module for companies who use robots to spray, coat, or paint products as well as a module that simulates material deposition during additive manufacturing, adhesive dispensing, welding, and similar applications.
Numerous productivity enhancements to existing modules for more accurate time estimates, the ability to quickly import g-code from 3D slicing software including Cura and Slic3r, and the ability to automatically set a cutting direction based on material location with respect to the path.
Notable enhancements to the path import module providing users with an option to read custom instructions and set process activations and deactivations directly from imported code and enjoy a more accurate interaction, process simulation, and robot code output for both g-code and APT formats.
"The many new features found in V7.3 are based on close work with many of our current customers to understand how we can further streamline offline robotic programming," explains Garen Cakmak, leader of Hypertherm's Robotic Software Team. "By adding support for more software types, files, and robots, we are helping customers solve sometimes complex challenges quickly and easily."
Building upon the completely redesigned V7 architecture, first introduced in 2018, Robotmaster uses integrated CAD/CAM functionality to make robotic programming easy and intuitive for everyone, even first-time users. It is used by a wide range of industries to program robots for tasks that include surfacing, 3D milling, additive manufacturing, welding, painting, and more. Demonstrations are available by emailing or calling 855-488-3143.
Hypertherm engineers and manufactures industrial cutting products used by companies around the world to build ships, airplanes, and railcars, construct steel buildings, manufacture heavy equipment, and more. Its products include cutting systems, CNCs, and software trusted for performance and reliability that result in increased productivity and profitability for hundreds of thousands of businesses. Founded in 1968 and based in New Hampshire, Hypertherm is a 100 percent Associate owned company, employing more than 1,800 Associates, with operations and partner representation worldwide.