Maintenance-free igubal® Polymer Plastic Bearings Now Detectable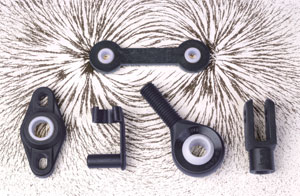 One way to effectively protect food from metal-particle contamination is to install an electric metal detector. Any goods affected are then rejected.
Plastic bearing expert igus®, located in East Providence, Rhode Island, has developed its range of available self-aligning bearing materials to meet this requirement. At this year's Hannover Industrial Fair in Hanover, Germany, igus presented a new extension to its igubal® product line; a polymer material that can be recognized by metal detectors. The complete igubal® range includes lubrication and maintenance-free rod end bearings and clevis joints, flanged units, press-fit and pedestal bearings. Both the housing and spherical balls are made from detectable plastic. Standard metal-detection systems can detect all potential plastic residues, even down to the tiniest particle, and then select these for rejection.
The self-adjusting bearings are manufactured completely from tribo-optimized polymers. They are easy to install, adjust to all angular misalignments and can replace metallic components in many applications. igubal bearings from igus are up to 80 percent lighter than traditional metal bearings, allowing machines and systems to work more efficiently and the number of duty cycles to be significantly increased.
The detectable bearings are dry running, unaffected by dirt and dust contamination, can operate in liquids and a variety of chemicals, and are corrosion resistant. Application temperatures can range from –40° to 176° Fahrenheit. In addition, the components can absorb very high forces. This is due to the fact that the plastic material of the two-part combined bearings can absorb vibrations, in contrast to their steel counterparts.
igubal spherical bearings from igus are a unique solution for a wide array of industries such as packaging, sports equipment, food processing, and automotive manufacturing. Frequently, other alternatives such as roller bearings fail prematurely and may require readjustment, reaming or retrofitting to compensate for alignment errors. igubal spherical bearings eradicate the need for exact placement of shafts and housing, making them an ideal solution for simple to even the most complex designs.
About igus
igus develops industry-leading Energy Chain® cable carriers, Chainflex® continuous-flex cables, iglide® plastic bushings, igubal spherical bearings, and DryLin® linear bearings and linear guides. These seemingly unrelated products are linked together through a belief in making functionally advanced, yet affordable plastic components and assemblies. With plastic bearing experience since 1964, cable carrier experience since 1971 and continuous-flex cable since 1989, igus provides the right solution from over 80,000 products available from stock. No minimum order required.