Macro and Wide-angle Accessory Lenses for USB 3.0 Industrial Autofocus Cameras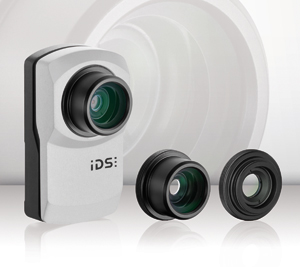 Expanded perspectives for the USB 3 uEye XC
IDS expands the range of applications of its 13 megapixel industrial autofocus camera USB 3 uEye XC by offering new accessory lenses. A macro lens allows a detailed inspection of objects at a working distance of about three to five centimeters. The wide-angle accessory lens increases the camera's field of view.
The accessory lenses are available as of now and can be screwed on the USB 3 uEye XC very simply. Using the macro lens is an ideal accessory for the 13 MP camera, especially for medical applications such as skin screening. The combination of macro lens and wide-angle lens increases the field of view by a factor of 1.4, i.e. from 53 degrees (live video) to 74 degrees. Therefore, the industrial autofocus camera is perfectly suitable for applications like room monitoring and access control.
Providing many auto features that are normally only available on the latest consumer digital cameras like face detection, 16x digital zoom, autofocus, backlight compensation, automatic white balance, the camera is ideal for applications with varying ambient conditions. To mention a few examples: access control, kiosk system or applications in the field of logistics. The robust housing, screw-on USB connectors, and long-term availability make the USB 3 uEye XC suitable for industrial use.
Company Contact
Jan Jordan
Tel: 0049 7134 / 961 96 - 154