Machine Vision: MVTec brings deep learning to NVIDIA Pascal architecture
Deep learning inference in HALCON 17.12 successfully tested on NVIDIA Jetson TX2 embedded board
High execution speed, comparable to standard PCs
Extensive range of functions available on embedded devices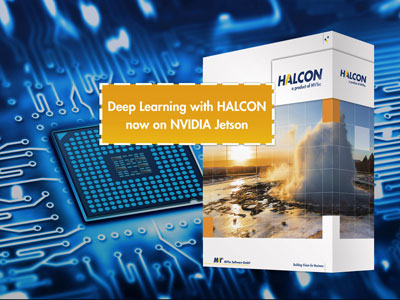 Munich – MVTec Software GmbH, the leading provider of innovative machine vision technologies, makes extensive deep learning functions available on embedded boards with NVIDIA Pascal architecture. The deep learning inference in the new version 17.12 of the HALCON machine vision software was successfully tested on NVIDIA Jetson TX2 boards based on 64-bit Arm® processors. The deep learning inference, i.e., applying the trained CNN (convolutional neural network), almost reached the speed of a conventional laptop GPU (approx. 5 milliseconds). This is an unusually high execution performance for an embedded device – compared to a standard PC. Users can thus enjoy all the benefits of deep learning on the popular NVIDIA Jetson TX2 embedded board. This is possible thanks to the availability of two pretrained networks that MVTec ships with HALCON 17.12. One of them (the so called "compact" network) is optimized for speed and therefore ideally suited for use on embedded boards. MVTec will provide interested customers with a software version for this architecture on request.

Take advantage of the benefits of a standard library
In addition to deep learning, the full functionality of the standard machine vision library HALCON is available on these embedded devices. Applications can be developed on a standard PC. With the help of HDevEngine, the trained network as well as the application can then subsequently be transferred to the embedded device. Plus, users can utilize more powerful GPUs, available for the PC, to train their CNN, and then execute the inference on the embedded system. This shortens time to market.

"We have provided successful technological proof that allows us to offer advanced deep learning functions in the embedded vision segment. This will greatly benefit users. They can now utilize the extensive new HALCON 17.12 features on standard devices with NVIDIA Pascal architecture – at an extraordinary high speed for embedded technologies," explains Christoph Wagner, MVTec's Embedded Vision Product Manager.

Meeting the exact new market requirements
Dr. Olaf Munkelt, Managing Director of MVTec Software GmbH, adds, "The rapidly growing market for embedded systems requires corresponding high-performing technologies. At the same time, AI-based methods such as deep learning and CNNs, are becoming more and more important in highly automated industrial processes. We are specifically addressing these two market requirements by combining HALCON 17.12 with the NVIDIA Pascal architecture."

"Arm" is a registered trademark of Arm Limited (or its subsidiaries) in the EU and/or elsewhere. All rights reserved.

About HALCON
MVTec HALCON is the comprehensive standard software for machine vision with an integrated development environment (HDevelop) that is used worldwide. It enables cost savings and improved time to market. HALCON's flexible architecture facilitates rapid development of any kind of machine vision application. MVTec HALCON provides outstanding performance and a comprehensive support of multi-core platforms and special instruction sets like AVX2, NEON, as well as GPU acceleration. It serves all industries, with a library used in hundreds of thousands of installations in all areas of imaging like blob analysis, morphology, matching, measuring, and identification. The software provides the latest state-of-the-art machine vision technologies, such as comprehensive 3D vision and deep learning algorithms. The software secures your investment by supporting a wide range of operating systems and providing interfaces to hundreds of industrial cameras and frame grabbers, in particular by supporting standards like GenICam, GigE Vision, and USB3 Vision.

About MVTec
MVTec is a leading manufacturer of standard software for machine vision. MVTec products are used in all demanding areas of imaging: Semi-conductor industry, web inspection, quality control and inspection applications in general, medicine, 3D vision, and surveillance. MVTec, with its head office in Munich (Germany), has more than 30 established distributors worldwide and in addition, MVTec, LLC works out of Boston, MA (USA).
Embedded Vision
This content is part of the Embedded Vision curated collection. To learn more about Embedded Vision,
click here
.