Machine Vision Microscope IM•compact M ECO just released by Opto for smart production - one wire 'plug and play'
These Imaging Modules from Opto's 90° IM-compact M series are MACHINE VISION MICROSCOPES with FoV 3.8 x 2.8 mm and 4.5 x 3.8 mm, with integrated white coaxial and ring light illumination for optional use, as well as supplied control and possibly connected measurement software; Easy to integrate via a single cable with USB 3.0 C connection.

Opto Imaging Modules are a family of integrated 'plug and play' imaging devices, with an optimized combination of onboard camera, optics, illumination, and electronic control interface that together provide a perfect image. Designed for smart production and many 'Industry 4.0' applications, they significantly shorten system development times for machine builders and integrators.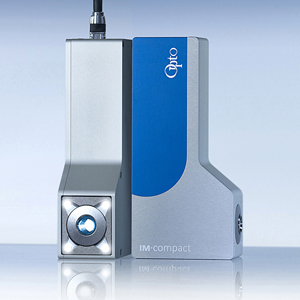 Technical details:
with FoV 3.8 x 2.8 mm and 4.5 x 3.8 mm.
WD 31mm
Resolution LP/mm 270
Measuring resolution 1.8 µm / pixel
Picture: monochrome or color
Sony IMX265 sensor with 55 frames / sec. or
Sony IMX264 sensor with 36 frames / sec.
Advantages:
- Perfectly optimized high-resolution image thanks to a closed, optimized design
- High-end microscope design tested by specialists - enables the user to achieve perfect results without the need for deep optical knowledge.
- Direct USB3 image output with one cable & compatibility with most image processing software packages (USB 3.1 USB Type C Connector)
- Robust aluminium block design with versatile mounting options
IM•series
easy-to-use
easy-to-integrate
one unit - one wire
Versatile in use
measurement machines
test systems
profile and roundness analysis
bio imaging instrumentation
About Opto
For over 30 years, Opto GmbH has been a manufacturer of high reliability, embedded vision and inspection solutions to some of the most challenging machine-integrated imaging applications. Opto provides high-performance imaging solutions ranging from simple vision components all the way to complex imaging modules and subsystems. Most recently, Opto has developed a range of highly compact embedded imaging modules specifically for OEMs involved in building industrial and biomedical machines. With onboard cameras, lens, light, and intelligence, Opto's new fully integrated imaging modules enable OEMs to instantly achieve the very highest image performance and resolution, without the need for specialist optical expertise.
Embedded Vision
This content is part of the Embedded Vision curated collection. To learn more about Embedded Vision,
click here
.