Machine Vision Color Inspection System
Chromasens Launches Machine Vision Industry's Most Accurate Multi-Spectral Color Inspection System

Combines 12-channel line scan camera with Corona II line light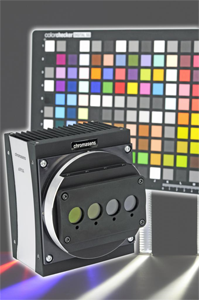 Optical inspection systems allow manufacturers to ensure products are the precise color customers desire, whether that product is construction materials and accessories, chemicals, or print documents. These systems are also essential for on-line sorting processes of fresh fruits and vegetables. However, most optical inspection systems today are based on simplistic three-channel RGB (Red-Green-Blue) vision technology that often lets color defects and blemishes escape, especially at high production speeds.
To give manufacturers precise color checking, Chromasens GmbH has introduced a highly-advanced vision-based inspection system that achieves unprecedented color accuracy by incorporating spectral image capture of pixels in twelve individual color channels -- instead of just three. Being vision based, it also allows measurements everywhere within the field of view of the camera.
The new fully-automated system combines the Chromasens truePIXA multichannel line scan camera with its CORONA II broad-band line light, powered by software that mimics the functionality of a traditional spectrophotometer. Because each component is modular in design, the systems can be customized so that any color inspection requirement can be meet.
"On-line checking with our system reduces the number of rejections because it lets the manufacturer initiate corrective actions early in the production process," notes Markus Schnitzlein, president of Chromasens. "The result is significantly less waste, lower labor costs and higher quality products."
truePIXA Spectral Camera
Chromasens' truePIXA cameras feature 12 spectral selective sensors that simultaneously scan the object within the complete visible spectrum. The resulting spectral images provide for precise space-resolved spectral measurements in the whole image and in arbitrary areas of interest.. With up to 3500 pixels per channel and 21.1 kHz line frequency, the cameras achieve high resolution at speeds up to 6 meters-per-second.
CORONA II D50 Illuminator
The next-generation CORONA D50 LED line scan illuminator combines superior homogeneity of light distribution with unprecedented illumination strength up to 2,500,000 lux, allowing the truePIXA line scan cameras to operate at far faster speeds than conventional models. Designed for precise color inspection, the Corona D 50 has a smooth and balanced spectral characteristic similar to the standard daylight illumination "D 50". Emitted LED light is focused leveraging the company's patented mirror technology to achieve optimal light shape and spectral homogeneity in the illumination focus range, resulting in no chromatic aberrations.