MA20 Measuring Wheel Encoder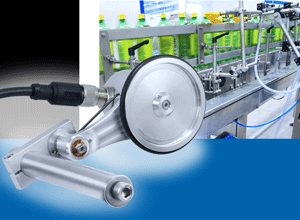 The new MA20 measuring wheel encoder from Baumer provides simple, flexible and dependable position and speed feedback for conveyor systems. The two-in-one device combines a high-resolution optical incremental encoder and a highly precise measuring wheel. Capable of resolutions as high as 25,000 ppr, the encoder provides extremely precise measuring results even at very low conveyor speeds.
The MA20 measuring wheel encoder's HEX switch allows the user to select from 16 predefined resolutions between 100 and 25,000 ppr. These pre-set resolutions ensure that the multi-purpose encoder meets a wide range of application requirements, and minimizes inventory requirements for manufacturers. Featuring continuously adjustable contact pressure, the encoder eliminates measuring errors and ensures reliable surface contact without slip.
Measuring 200 mm in circumference, the wear-resistant measuring wheel is available in a variety of rubber hardnesses (Shore durometer between 40 or 70) to ensure optimal adhesion to conveyor materials. A pivoting, height-adjustable arm bracket allows for quick and easy installation. The measuring wheel encoder operates at supply voltages between 4.75 and 30 VDC, and features an 8-pin M12 connector. The encoder's IP64 rating and ability to withstand ambient temperatures from -20 °C to +85 °C allow it to operate reliably even in harsh environments.
In the food processing industry, the MA20 measuring wheel encoder can be used for packaging, labeling, bottling, and furnace/oven applications. These encoders also facilitate letter/parcel sorting, and textile and printing applications.
The Baumer Group is a leading international manufacturer of sensors and system solutions for factory and process automation. In 2011 the innovative family-owned company employed about 2,500 people worldwide in 36 locations and 18 countries. The long lasting success is built on high customer focus as well as the innovative and diversified product range of the product segments Sensor Solutions, Motion Control, Vision Technologies, Process Instrumentation, and Gluing Systems.