LX Series with Up to 20 Megapixel and Camera Link for Improved System Performance and Easy Integration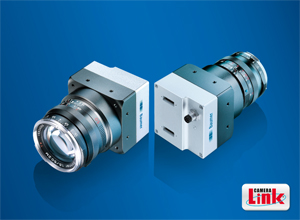 In the 4th quarter of 2015, Baumer adds to the LX series with 8 new camera models including Camera Link interface. With resolutions from 2 to 20 megapixel and frame rates up to 337 fps, they capture the finest detail in demanding inspection tasks even at high throughput. Cutting-edge Global Shutter CMOS sensors ensure excellent image quality with extremely high sensitivity. LXC cameras are therefore ideal for multi-faceted applications in the manufacture of semi-conductors and electronics, in measuring technology as well as in lab automation and traffic inspection tasks.
Camera Link provides high bandwidth and low CPU load for high-performance cameras. Unlike other interfaces, integration is the challenge. This is the reason why system integration capabilities took center stage in the development of the new LXC models. Another focus was on camera control functionalities for stable operation to simplify system setup and cut down on integration cost.
The GenCP protocol is used for camera configuration. It enables a convenient parameterization via GenICam similar to GigE Vision. Thereby the demanding register programming typical for Camera Link is no longer required. On top, Baumer LXC cameras will identify transmission errors by calculating a checksum based on the image data which can be validated on a PC or in the frame grabber even in the running process. This functionality can also be used for data integrity checks in robotics or in long-distance transmission to ensure system stability. Tests at Baumer with up to 15-meter transmission distance were successfully passed. Furthermore, events and status information such as image sequence number or image-related time stamps can be included in the transmission and allow for easy camera status control. Thanks to Power over Camera Link (PoCL), the LXC cameras enable direct supply by frame grabber.
Baumer Group
The Baumer Group is one of the worldwide leading manufacturers of sensors, encoders, measuring instruments and components for automated image-processing. Baumer combines innovative technologies and customer-oriented service into intelligent solutions for factory and process automation and offers an unrivalled wide technology and product portfolio. With around 2,300 employees and 38 subsidiaries in 19 countries, the family-owned group of companies is always close to the customer. Baumer provides clients in most diverse industries with vital benefits and measurable added value by worldwide consistent high quality standards and outstanding innovative potential.
Company Contact
Nicole Marofsky - Marketing Communication
Tel: +49 (0)3528 43 86 19