LX series now with high-resolution 25 megapixel CMOS cameras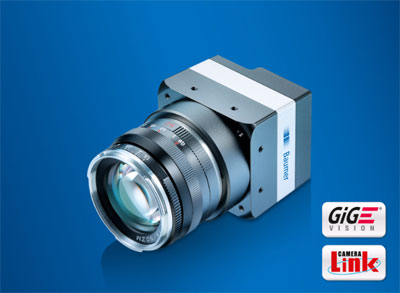 Baumer has added global shutter CMOS sensors PYTHON 25K by ON Semiconductor to its LX series offering cameras with 25 megapixel. The high resolution of 5120 x 5120 pixel and speed up to 30 frames per second make the cameras ideal for applications with demanding requirements for high-definition quality in image acquisition at high throughput. Models with Dual GigE or Camera Link interface are now available for evaluation. Series production start is scheduled for the third quarter of 2016.
The new PYTHON sensor features significantly enhanced sensitivity compared to cameras of the previous generation with VITA 25K sensors and provides maximum exploitation of the lens format thanks to a 1:1 aspect ratio. Compared to single GigE, the LXG variant with Dual GigE interface provides twice the frame rate or half the transmission time. Furthermore the camera is capable of very high frame rates within a short image sequence in Burst Mode or using ROI which significantly cuts down on reaction or inspection time in the application.
Models with Camera Link provide high frame rates continuously. The GenCP protocol simplifies camera integration whereas GenICam allows an easy configuration. Data integrity by checksum validation ensures system stability, which is of special benefit especially in robotics or where using long cables. Furthermore, every image can be transferred with related event and status information such as image sequence number or time stamp. This way, the camera status is always known.
The new 25 megapixel models expand the existing LX series of CMOSIS cameras. Now one can choose between 6 resolutions from 2 to 25 megapixel among the same compact 60 x 60 mm design. One single camera format and size will match different resolution and application requirements. The LX series offers a high level of flexibility by featuring sequencer, Power over Ethernet (PoE) or Power over Camera Link (PoCL) and Multi/IO, coupled with modular lens mount. The new cameras are ideal for demanding applications such as inspection tasks at PCBs, semi-conductors or 2D/3D surfaces where high resolutions at high frame rates are required.
Baumer Group
The Baumer Group is one of the worldwide leading manufacturers of sensors, encoders, measuring instruments and components for automated image-processing. Baumer combines innovative technologies and customer-oriented service into intelligent solutions for factory and process automation and offers an unrivalled wide technology and product portfolio. With around 2,300 employees and 38 subsidiaries in 19 countries, the family-owned group of companies is always close to the customer. Baumer provides clients in most diverse industries with vital benefits and measurable added value by worldwide consistent high quality standards and outstanding innovative potential.
Company Contact
René Imhof, Marketing Manager
Tel: +41 (0)52 728 17 10