LUCID to Introduce the Triton™ and Atlas™ GigE Vision Cameras at VISION 2018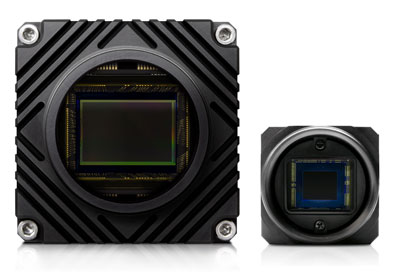 Showcasing the IP67 Triton™ industrial camera packed into a 29 x 29 mm size, and the 5GBASE-T Atlas™ featuring the new 31 Megapixel Sony Pregius global shutter sensor.
Richmond, BC, Canada – LUCID Vision Labs, Inc., a designer and manufacturer of unique and innovative industrial vision cameras, will be introducing two new GigE Vision camera lines and showcasing innovative imaging technologies at VISION 2018 from November 6-8 in Stuttgart, Germany. Under the theme "Be Inspired", visitors to the LUCID booth will see live product demonstrations and draw inspiration from the latest camera technologies suited for their next machine vision application.
The Triton™ camera sets a new price performance standard in the industrial camera market. Active Sensor Alignment for superior optical performance, a lightweight, compact 29 x 29 mm size, and IP67 protection with a sealed lens tube make the Triton camera suitable for harsh industrial environments. The M12 Ethernet and M8 GPIO connectors provide a robust and sturdy connection resistant to shock and vibration. The GigE Vision and GenICam compliant Triton camera ranges from 0.4 MP to 20 MP and will include the 5 MP Sony IMX250MZR/MYR polarized sensors, the 12.3 MP Sony IMX304 global shutter CMOS and the 20 MP Sony IMX183 rolling shutter CMOS sensors. The first Triton model will be released in Q3 2018 featuring the 5 MP Sony Pregius IMX264.
The Atlas™ is a 5GBASE-T PoE camera capable of 600 MB per second data transfer rates offering 5 times more bandwidth than GigE cameras. The large format Atlas camera allows for higher resolutions and higher frame rates over standard Ethernet cables up to 100 meters. Measuring only 55 x 55 mm, the Atlas is equipped with a M35 lens mount which can easily be adapted to F-mount. Just like Triton, the Atlas also features Active Sensor Alignment for superior optical performance with large image sensors. The first model will feature the new 31 MP Sony Pregius IMX342 APS-C format global shutter CMOS, followed by the 19 MP IMX367 and the 16 MP IMX387 sensors.
At the Industrial Vision Days forum organized by VDMA Machine Vision, LUCID's Product Manager Nina Chen will give a presentation titled "Going Polarized: Adding a New Perspective to Industrial Imaging" on November 8th at 2.30 pm.
Come and see LUCID at VISION 2018 from Nov 6-8, 2018 in Stuttgart, Germany at booth 1C62.
About LUCID Vision Labs
LUCID Vision Labs, Inc. designs and manufactures innovative machine vision cameras and components that utilize the latest technologies to deliver exceptional value to customers. Our compact, high-performance GigE Vision cameras are suited for a wide range of industries and applications such as factory automation, medical, life sciences and logistics. We innovate dynamically to create products that meet the demands of machine vision for Industry 4.0. Our expertise combines deep industry experience with a passion for product quality, technology innovation and customer service excellence. LUCID Vision Labs, Inc. was founded in January 2017 and is located in the greater Vancouver area, Canada.