LUCID Releases New GenICam3-Based Arena SDK LDesigned for Easy Integration and Rapid Development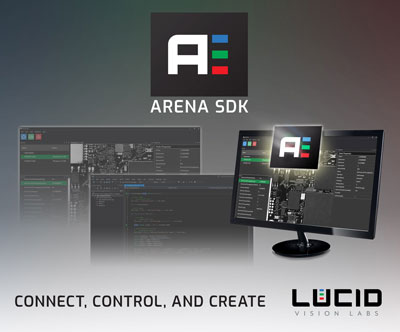 LUCID Vision Labs, Inc., a new designer and manufacturer of unique and innovative industrial vision cameras, today announced the release of its new Arena Software Development Kit (SDK) which has been designed to maximize the performance of LUCID cameras and is based on the latest GenICam3 and GigE Vision image acquisition standards.
The Arena SDK features a comprehensive API toolkit, providing users with easy access to the newest features and software technology compliant with current industry standards. The GenICam 3.0 based C++ API leverages GenICam's Reference Implementation for robustness, stability and reliability and uses the Standard Feature Naming Convention (SFNC) for camera features and control. It has been designed for forward-compatibility with new device features and enables fully-featured chunk data support, device events and triggers. The Lightweight Filter (LWF) driver improves image transfer performance and lowers CPU usage when streaming large images at small packet sizes.
The Arena SDK includes an intuitive image acquisition software called ArenaView, which allows users to access and validate camera features quickly and easily through the GenICam XML based feature tree. Its flexible user interface framework is based on HTML5, CSS3, and JavaScript, modernizing the approach, look and maintenance of user applications. The initial release of the Arena SDK supports Windows, with subsequent Linux support targeted for a Q2 release. All LUCID cameras feature a built-in web interface for easy firmware updates and with additional capabilities to be added in the near future.
"The Arena SDK has been designed from the ground up and optimized for today's diverse range of user preferences," says Rod Barman, Founder and President at LUCID Vision Labs. "It features an intuitive, modern and flexible architecture that enables an easy integration and rapid development of all kinds of machine vision applications and embedded systems."
About LUCID Vision Labs
LUCID Vision Labs, Inc. designs and manufactures innovative machine vision cameras and components that utilize the latest technologies to deliver exceptional value to customers. Our compact, high-performance GigE Vision cameras are suited for a wide range of industries and applications such as factory automation, medical, life sciences and logistics. We innovate dynamically to create products that meet the demands of machine vision for Industry 4.0. Our expertise combines deep industry experience with a passion for product quality, technology innovation and customer service excellence. LUCID Vision Labs, Inc. was founded in January 2017 and is located in the greater Vancouver area, Canada.