LUCID Launches Helios™2 – The Next Generation Time of Flight Camera Featuring Improved 3D ToF Performance and a Robust IP67 Hardware Design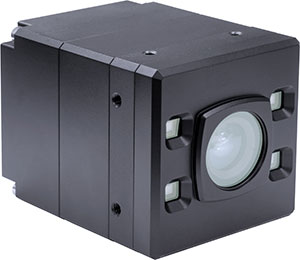 Richmond, BC, Canada – LUCID Vision Labs, Inc., a designer and manufacturer of unique and innovative industrial vision cameras, is pleased to announce that Helios™2, the next generation of 3D Time of Flight (ToF) cameras, has now entered series production.
Helios2 offers significant advancements making it a true 'factory tough' 3D Time of Flight camera. Featuring improved ToF performance, the Helios2 produces exceptional 3D depth data with sub-millimeter precision (< 1 mm) at one meter. It also has improved optics for higher light collection and less inter-scene dependence as well as better calibration for higher accuracy. A robust design provides an IP67-rated enclosure with lens protection, GigE Vision PoE and industrial M12 connector for up to a 100 meter cable length.
Helios2 integrates Sony's DepthSense™ IMX556PLR back-illuminated ToF image sensor and uses four 850nm VCSEL laser diodes. The camera delivers 640 x 480 depth resolution at up to an 8.3 meter working distance and at a frame rate of 30 fps. Additional features include 6 different operating distance modes, an integrated ambient light filter, a wider FOV, multi-camera support and a flying pixels filter. On-camera processing provides range, intensity and confidence data which reduces the need for expensive host systems.
"The wide adoption of the first generation of the Helios ToF camera in many applications such as 3D inspection, automated material handling and robotics, has motivated us to further improve the performance of Time of Flight," says Rod Barman, Founder and President at LUCID Vision Labs. "The new Helios2 ToF camera now offers even better 3D depth data precision and accuracy, a robust IP67-rated enclosure with lens protection, and a highly competitive price point."
LUCID's own Arena SDK includes easy to use controls for the Helios2 ToF camera. The ArenaView GUI can show the intensity and depth of a scene in either a 2D view or a 3D point cloud view, which can be manipulated and oriented in real-time. Additionally, settings can be adjusted and seen in real-time, including false color overlay and depth range.
All LUCID cameras conform to the GigE Vision 2.0 and GenICam3 standards and are supported by LUCID's own Arena software development kit. The Arena SDK provides customers with easy access to the latest industry standards and software technology. The SDK supports Windows, Linux 64bit and Linux ARM operating systems, and C, C++, C# and Python programming languages.
Helios2 HLT003S is list priced at $1,495 USD and is now available to order. For more information, please visit our Helios2 product page or contact Sales.
About Us
LUCID Vision Labs, Inc. designs and manufactures innovative machine vision cameras and components that utilize the latest technologies to deliver exceptional value to customers. Our compact, high-performance GigE Vision cameras are suited for a wide range of industries and applications such as factory automation, medical, life sciences and logistics. We innovate dynamically to create products that meet the demands of machine vision for Industry 4.0. Our expertise combines deep industry experience with a passion for product quality, technology innovation and customer service excellence. LUCID Vision Labs, Inc. was founded in January 2017 and is located in Richmond, BC, Canada with local offices in Germany, Japan, China and Taiwan.