LUCID Launches 8.9 and 12.3 MP Phoenix Cameras Featuring Sony Pregius IMX267 and IMX304 CMOS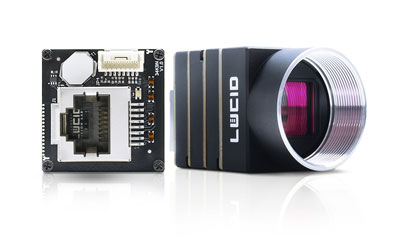 LUCID Vision Labs, Inc., a designer and manufacturer of unique and innovative industrial vision cameras, today announced the series production of its new 8.9 and 12.3 MP Phoenix camera models. The high resolution Phoenix camera family measures only 28 x 28 mm, making it the industry's smallest GigE PoE camera.
The 8.9 and 12.3 MP Phoenix models feature the 2nd generation Sony Pregius IMX267 and IMX304 global shutter CMOS sensors, running at 13.7 and 10 fps, respectively. The Phoenix camera has a unique transformable design that can be easily configured to meet a wide range of OEM applications. Its board layout can be tri-folded into a stacked camera where it resembles a traditional cased camera but can also be unfolded into 90 or 180-degree orientations for the ultimate custom fit. The Phoenix further advances industrial miniaturization by offering Hirose's ix Industrial™ Ethernet connector which is 70% smaller than a traditional RJ45 connector, featuring a robust connection design with snap-in positive locking. The Phoenix camera features a built-in web interface for easy firmware updates with additional capabilities to be added in the near future.
"We're excited about expanding the range of our Phoenix camera family with high resolution models," says Rod Barman, Founder and President of LUCID Vision Labs, Inc. "The new 8.9 and 12.3 MP models are ideal replacements for the Sony ICX814 and ICX834 CCDs featuring low noise, high dynamic range and high quantum efficiency over a broad spectrum of visible light into the NIR."
All LUCID cameras conform to the GigE Vision 2.0 and GenICam3 standards and are supported by LUCID's own Arena software development kit. The Arena SDK provides customers with easy access to the latest industry standards and software technology.
About LUCID Vision Labs
LUCID Vision Labs, Inc. designs and manufactures innovative machine vision cameras and components that utilize the latest technologies to deliver exceptional value to customers. Our compact, high-performance GigE Vision cameras are suited for a wide range of industries and applications such as factory automation, medical, life sciences and logistics. We innovate dynamically to create products that meet the demands of machine vision for Industry 4.0. Our expertise combines deep industry experience with a passion for product quality, technology innovation and customer service excellence. LUCID Vision Labs, Inc. was founded in January 2017 and is located in the greater Vancouver area, Canada.