LUCID Launches 2K Triton Line Scan Camera Featuring IP67 Protection for Industrial Applications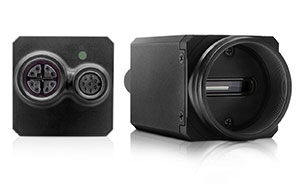 Richmond, BC, Canada – LUCID Vision Labs, Inc., a designer and manufacturer of innovative industrial cameras, is pleased to announce the series production of its new 2K line scan Triton GigE Vision camera.
The Triton line scan camera is the newest addition to the Triton series, featuring the "2K AMS Dragster DR-2k-7" monochrome line scan sensor with a 7 μm pixel size and a resolution of 2048 x 1 at a line rate of 60 kHz. Additional features such as IP67 protection, a robust M12 Ethernet GPIO connector, Power over Ethernet (PoE) and a temperature range (0°C to 55°C ambient), ensure a reliable operation in demanding industrial environments. Due to its lightweight, compact 29 mm x 29 mm size, the Triton line scan camera is smaller than most line scan cameras on the market and can easily fit in nearly any application. All Triton cameras feature active sensor alignment which helps to minimize sensor tilt and rotation for a maximum image sharpness.
"We're excited to further expand our camera portfolio with our first line scan camera and leverage the industrial features the Triton camera platform offers," says Rod Barman, Founder and President at LUCID Vision Labs. "Many continuous manufacturing environments require IP67 protection, robust Ethernet connectors, Power over Ethernet, a compact camera size and a competitive price point. The Triton line scan camera provides all these benefits and therefore is ideal for a wide range of industrial applications such as automated optical inspection, material sorting & grading, optical character recognition and pharmaceutical inspection."
All LUCID cameras conform to the GigE Vision 2.0 and GenICam3 standards and are supported by LUCID's own Arena software development kit. The Arena SDK provides customers with easy access to the latest industry standards and software technology. The SDK supports Windows, Linux 64bit and Linux ARM operating systems, and C, C++, C# and Python programming languages.
The new Triton TRI02KA-MC line scan camera is now available for order. For more information, please visit our Triton product page or contact Sales.
About LUCID Vision Labs
LUCID Vision Labs, Inc. designs and manufactures innovative machine vision cameras and components that utilize the latest technologies to deliver exceptional value to customers. Our compact, high-performance GigE Vision cameras are suited for a wide range of industries and applications such as factory automation, medical, life sciences and logistics. We innovate dynamically to create products that meet the demands of machine vision for Industry 4.0. Our expertise combines deep industry experience with a passion for product quality, technology innovation and customer service excellence. LUCID Vision Labs, Inc. was founded in January 2017 and is located in Richmond, BC, Canada with local offices in Germany, Japan, China and Taiwan.