LUCID Expands its GigE Vision Triton™ Camera Series with Sony IMX265, IMX250MZR and IMX250MYR Sensors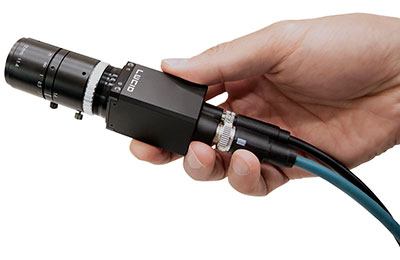 Richmond, BC, Canada – LUCID Vision Labs, Inc., a designer and manufacturer of unique and innovative industrial vision cameras, today announced the addition of new 3.2 MP and 5 MP polarization models to its Triton™ GigE Vision camera line.
The 3.2 MP Triton camera features the 1/1.8" Sony IMX265 global shutter CMOS sensor running at 38 fps. The 5 MP polarization Triton models feature the 2/3" Sony IMX250MZR monochrome and the IMX250MYR color global shutter CMOS sensors running at 24 fps. Featuring a pixel size of 3.45µm, the polarization image sensors have four different directional polarizing filters (0°, 90°, 45°, and 135°).
The Triton camera sets a new price performance standard in the industrial camera market. Active Sensor Alignment for superior optical performance, a lightweight, compact 29 x 29 mm size, and IP67 protection make the Triton camera suitable for any industrial environment. The M12 Ethernet and M8 I/O connectors provide a robust connection resistant to shock and vibration and are protected from dirt, dust, and water. By adding an optional IP67 sealed lens tube, the Triton can operate in harsh environments without the need for bulky enclosures. All Triton cameras are actively aligned to minimize image sensor tilt and rotation, and to precisely position the image sensor to the lens mount for sharp, crisp images, even in the corners.
"We're excited to expand our Triton camera portfolio and offer a larger selection of sensors for diverse customer requirements," says Rod Barman, Founder and President at LUCID Vision Labs. "Featuring a rugged design for long-term reliability and a very attractive price point, the Triton camera is ideal for a wide range of demanding applications and harsh environments."
All LUCID cameras conform to the GigE Vision 2.0 and GenICam3 standards and are supported by LUCID's own Arena software development kit. The Arena SDK provides customers with easy access to the latest industry standards and software technology.
About LUCID Vision Labs
LUCID Vision Labs, Inc. designs and manufactures innovative machine vision cameras and components that utilize the latest technologies to deliver exceptional value to customers. Our compact, high-performance GigE Vision cameras are suited for a wide range of industries and applications such as factory automation, medical, life sciences and logistics. We innovate dynamically to create products that meet the demands of machine vision for Industry 4.0. Our expertise combines deep industry experience with a passion for product quality, technology innovation and customer service excellence. LUCID Vision Labs, Inc. was founded in January 2017 and is located in the greater Vancouver area, Canada.