LUCID Adds 3rd Generation Sony Pregius IMX429 and IMX428 CMOS to Triton™ Camera Series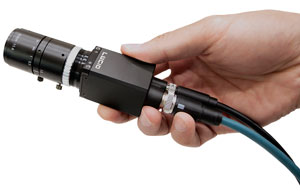 Richmond, BC, Canada – LUCID Vision Labs, Inc., a designer and manufacturer of unique and innovative industrial vision cameras, today announced the addition of the 3rd generation Sony Pregius 2.8 MP and 7.1 MP global shutter CMOS image sensors to its Triton GigE Vision camera series.
Featuring the Sony IMX429 and IMX428 sensors, the new 2.8 MP and 7.1 MP Triton camera models have now entered series production. The larger 4.5 μm pixel size offers a high saturation capacity of 25,000e-, low read noise of 2.5e- and a wider dynamic range of 76 dB compared to the 2nd generation Sony Pregius sensors, enabling a superior image acquisition under low light conditions.
"We're pleased to expand our Triton camera family with the latest 3rd generation Sony Pregius image sensors and utilize their enhanced imaging performance," says Rod Barman, Founder and President at LUCID Vision Labs. "The new sensors provide dual conversion gain which enables users to take advantage of the larger saturation capacity and maximize the dynamic range depending on the imaging condition."
The Triton camera sets a new price performance standard in the industrial camera market. Active Sensor Alignment for superior optical performance, a lightweight, compact 29 x 29 mm size, and IP67 protection rating make the Triton camera suitable for a wide range of industrial applications. The M12 Ethernet and M8 general purpose I/O connectors provide a robust connection resistant to shock and vibration and are protected from dirt, dust, and water. The Triton camera has a wide operating temperature range from -20°C to 55°C ambient, ensuring reliable operation in challenging conditions.
All LUCID cameras conform to the GigE Vision 2.0 and GenICam3 standards and are supported by LUCID's own Arena software development kit. The Arena SDK provides customers with easy access to the latest industry standards and software technology. The SDK supports Windows, Linux 64bit and Linux ARM operating systems, and C, C++, C# and Python programming languages.
The new Triton TRI028S and TRI071S models are now available for order. These Sony 3rd generation image sensors will also be available on the higher speed 5GBASE-T Atlas camera in Q3 2019, reaching frame rates up to 173 fps. For more information, please visit our Triton product page or contact Sales.
About us
LUCID Vision Labs, Inc. designs and manufactures innovative machine vision cameras and components that utilize the latest technologies to deliver exceptional value to customers. Our compact, high-performance GigE Vision cameras are suited for a wide range of industries and applications such as factory automation, medical, life sciences and logistics. We innovate dynamically to create products that meet the demands of machine vision for Industry 4.0. Our expertise combines deep industry experience with a passion for product quality, technology innovation and customer service excellence. LUCID Vision Labs, Inc. was founded in January 2017 and is located in Richmond, BC, Canada with local offices in Germany, Japan, China and Taiwan.