Low-Profile Direct Drive Motor is Newest Innovation from Mitsubishi Electric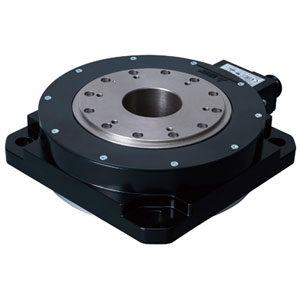 New Motor Provides Direct Control with Accuracy of a Servo Motor
Machine designers and end users looking for direct control of a load without traditional transmission components will be interested in the new Low-Profile Direct Drive Motors (TM-RG2M / TM-RU2M) from Mitsubishi Electric Automation, Inc. Built with speed and precision in mind, it provides a smaller footprint and allows for more compact, efficient, and precise machines than those typically built using rotary servo motors. Applications that are well suited for the new motor include coating and vapor deposition systems, index tables, tool changers, rotary material handling robots, and rotary axis on XYθ inspection positioning systems.
Unlike rotary servo motors that are coupled to a load with a mechanical transmission such as a gear, coupling, or belt, the TM-RG2M / TM-RU2M Low-Profile Direct Drive Motor is coupled directly to a load, resulting in greater positioning accuracy, reduced energy use and less maintenance. It is ideal for use in industries such as semiconductor / LCD manufacturing, machine tool, material handling and inspection. The new direct-drive motor allows users to reduce installation space, while combining direct control with the accuracy of a servo motor. It also allows for flexibility when sizing by allowing for compatibility with larger-capacity servo amplifiers such as Mitsubishi Electric´s MR-J4-40B (-RJ) with the TM-RG2M/TM-RU2M 004E30 to further increase torque. It features two installation methods - flange type with pilot and table type with positioning pinholes.
"The TM-RG2M / TM-RU2M Low-Profile Direct Drive Motor reduces the complexity of traditional mechanical power transmission systems which increases the machine efficiency and reduces downtime/maintenance by eliminating mechanical components," said Dan Zachacki, Senior Product Marketing Engineer at Mitsubishi Electric Automation, Inc. "It provides customers with the all advantages of a servo motor in a compact package that is capable of supporting and driving a load directly."
About Mitsubishi Electric Automation, Inc.
Headquartered in Vernon Hills, Ill., Mitsubishi Electric Automation, Inc., offers a wide range of factory automation products, solutions, training and support services for the industrial and commercial sectors. A U.S. affiliate company of Mitsubishi Electric Corporation, Mitsubishi Electric Automation represents more than 75 years' experience in the automation industry. A broad product portfolio includes programmable automation controllers (PAC), programmable logic controllers (PLC), human machine interfaces (HMI), variable frequency drives (VFD), servo amplifiers and motors, control software, computerized numerical controllers (CNC), motion controllers, robots and low-voltage power distribution products. The company takes its solutions on the road with the 53-foot long Solutions in Motion mobile showroom that appears at tradeshows, training seminars and other events across North America. Additional information about Mitsubishi Electric Automation is available at us.MitsubishiElectric.com/fa/en. In addition to factory automation, Mitsubishi Electric US group companies' principal businesses include semiconductor devices, automotive electrical components, elevators and escalators, cooling and heating products, electric utility products, and large-scale video displays for stadiums and arenas. Mitsubishi Electric US group companies have roughly 31 locations throughout North America with approximately 4,000 employees.