LMI Technologies to Unveil Three New FactorySmart 3D Inspection Products at VISION 2018 in Stuttgart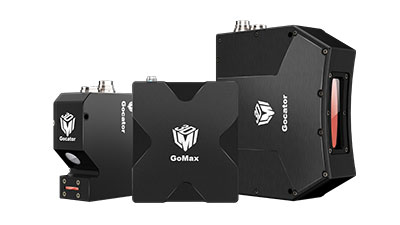 Includes New Series of 10kHz Smart 3D Laser Profilers, First Ever 6 µm Smart Snapshot Sensor, and an All-New Smart Vision Accelerator
Vancouver, BC – LMI Technologies (LMI), the global leader in 3D scanning and inspection, is pleased to announce that it will unveil three new 3D inspection products at this year's Vision 2018 show in Stuttgart, Germany, November 6-8. The LMI booth (Hall 1, booth #1C14) will include LIVE product demos.
Gocator® 2500 Series Smart 3D Laser Line Profilers
Gocator 2510 and 2520 are the most advanced Gocator line profilers to date. Designed for high-performance small parts inspection, these high-speed sensors generate precision 3D scans down to 8 µm X resolution.
With a custom high-speed imager, advanced optical design, dedicated FPGA processing, and built-in measurement tools for 3D alignment, part segmentation, and 3D feature extraction, Gocator 2500 sensors handle the complete processing pipeline––from raw image data to 3D result––in an all-in-one device that operates at inspection rates up to 10kHz.
Gocator® 3504 Smart 3D Snapshot Sensor
At 6 µm the Gocator 3504 is the highest XY resolution 3D snapshot sensor on the market today. Combine that with +/-0.5 µm measurement repeatability, and this groundbreaking sensor provides robust inline factory automation for sub-micron level inspection.
The 3504 has an industrial stereo camera design and point-and-shoot technology inside a ruggedized industrial package that allows for highly accurate inspection without a motion stage. The sensor is pre-calibrated and ready to measure out-of-the-box using just a web browser.
The Gocator 3504 sensor can be used in a wide range of electronics and medical applications such as connector and pin coplanarity, wire detection, surface flatness, and stent inspection.
GoMax® Smart Vision Accelerator
GoMax is a cost-effective hardware solution that allows users to accelerate any Gocator® 3D smart sensor in order to meet inline production speed, without the need for an industrial PC. This plug-and-play approach connects directly to any Gocator® model and speeds up the sensor by taking over a portion of the data processing (including point cloud generation, 3D measurement, and PLC/robot communication).
"The launch of these products continues to advance our FactorySmart® approach to automated inline quality control, automation, and optimization. By offering new benchmark products in three key technology areas, LMI is serving the full spectrum of machine vision customers and working to continually meet their specific application demands," said Terry Arden, CEO, LMI Technologies.
Visit Hall 1, Booth #1C14 at Vision 2018 (Stuttgart) to see the products for the first time.
About LMI Technologies
At LMI Technologies we work to advance 3D measurement with smart sensor technology. Our award-winning, FactorySmart® sensors improve the quality and efficiency of factory production by providing fast, accurate, reliable inspection solutions that leverage smart 3D technologies. Unlike contact-based measurement or 2D vision, our product removes complexity and dramatically reduces implementation cost.
To learn more about how LMI's inspection solutions can benefit your business, we invite you to contact us at contact@lmi3d.com or visit us at www.lmi3d.com to explore the possibilities of smart 3D technology.