LMI Technologies Releases New Structured Light 3D Snapshot Sensors for Inline Inspection Applications
Gocator 3210 and 3506 Models Deliver Industrial 3D Snapshot Scanning At Metrology Resolutions, For Inline Applications
Vancouver, BC – LMI Technologies (LMI), a leading developer of 3D scanning and inspection solutions, is pleased to announce the official launch of the Gocator 3210 and 3506, the latest additions to the Gocator line of smart, all-in-one structured light 3D snapshot sensors.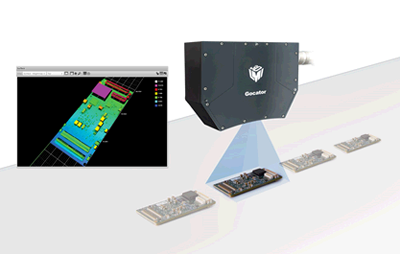 The Gocator 3210 achieves 3D snapshot scans at 35 μm. With a large FOV (100 x 154 mm) for picking up multiple features at once, and onboard hardware acceleration to achieve 4 Hz scan speeds, the 3210 is ideal for high-speed, high-resolution inline inspection of large parts such as automotive components and body assemblies.
The Gocator 3506 achieves an industry leading 12 μm resolution 3D snapshot scan at a 3 Hz acquisition rate. This medium FOV (30 x 45 mm) sensor is designed for highly accurate small parts inspection such as step-height, gap, roughness and coplanarity measurements common in electronics enclosure, PCB and battery/IC connector applications.
The key advancements common to both of these inline-ready sensors include a new embedded dual-core controller with onboard hardware acceleration to achieve fast production speeds, and a new long-life industrial LED projector offering up to 10 years of continuous operation.
Snapshot sensors are pick-and-place friendly for robotic inspection applications, while providing the added benefit of scanning the target when it is stationary, effectively eliminating errors due to vibration.
"The Gocator 3210 and 3506 are a breakthrough in speed, resolution, and industrial design. These smart snapshot sensors are the first in a line-up that fit in many applications where reduced complexity and cost are driving the decision away from traditional motion-based profiler solutions. Built on the scan-measure-control experience that Gocator customers expect, snapshot is now an inline choice for 100% quality control", said Terry Arden, CEO of LMI Technologies.
Includes Gocator Firmware 4.6 Release
Gocator Firmware 4.6 is available with the launch of the Gocator 3210/3506. Firmware 4.6 features hardware acceleration with on-board compression and Gocator Accelerator (GoX) to enable Gocator snapshot sensors to achieve industry-leading speeds required for 3D inline inspection.
The 4.6 release also includes expanded multi-sensor support and faster acceleration speeds for laser line profile sensors, as well as new geometric measurement tools. Gocator Firmware is available for free to anyone who owns a Gocator 3D smart sensor.
About LMI Technologies
At LMI Technologies we work to advance 3D measurement with smart sensor technology. Our award-winning, FactorySmart® solutions improve the quality and efficiency of factory production by providing fast, accurate, reliable inspection solutions that leverage smart 3D technologies. Unlike contact based measurement or 2D vision, our product removes complexity and dramatically reduces implementation cost.
To learn more about how LMI's inspection solutions can benefit your business, we invite you to contact us to explore the possibilities of smart 3D technology.
Media Contact:
Kassandra Sison
Marketing Coordinator
LMI Technologies
Tel.: +1 604 636 1011
Embedded Vision
This content is part of the Embedded Vision curated collection. To learn more about Embedded Vision,
click here
.