LMI Technologies Releases Dedicated 3D Solution for Non-Contact Volume Gauging in the Automotive Industry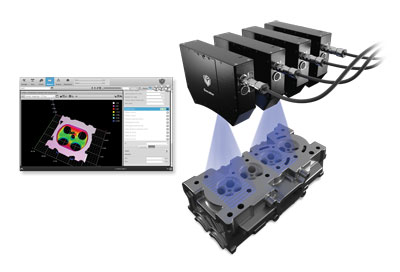 LMI Technologies (LMI), a leading developer of 3D scanning and inspection solutions, is pleased to announce the release of Gocator Volume Checker––a fast, accurate and reliable volume gauging solution ideal for inspecting cylinder heads and piston bowls in small to medium-sized internal combustion engines (ICEs).
This unique and innovative approach replaced traditional volume gauging methods (i.e., fluids, pressurized air, and acoustics) with a fully automated, non-contact 3D solution.
"Converting a manual process to a non-contact, automated solution using 3D technology enables engine block manufacturers to achieve higher accuracy and repeatability than ever before," says Terry Arden, CEO, LMI Technologies. "We see many opportunities like this in various markets where critical tolerances are being verified with manual approaches but are better achieved with 3D inspection."
Gocator Volume Checker solves this application by combining the Gocator 3210 snapshot sensor (35 µm resolution) with custom built-in measurement tools to calculate the volume of engine cylinder heads and piston bowls.
The solution uses blue LED structured light to take a single snapshot scan and deliver measurement results at ± 0.04cm3 accuracy. This measurement occurs in a cycle time of less than 5 seconds––even on combustion chambers and pistons with highly-reflective surfaces. Traditional contact-based methods can take up to 5 minutes.
"The Gocator Volume Checker demonstrates the flexibility of our hardware and software platform, where we're able to customize standard products with specific measurement tools to solve unique applications in many industries," says Arden. "The approach we offer is a powerful blend of 3D scanning technologies married to innovative 3D feature measurement algorithms for breakthrough solutions".
The Gocator 3210 snapshot sensor is IP67-rated and interfaces seamlessly to send pass/fail decisions to PLCs.
Gocator Volume Checker is now available for order.
About LMI Technologies
At LMI Technologies we work to advance quality and productivity with 3D sensor technology. Our award-winning, FactorySmart® solutions improve the quality and efficiency of factory production by providing fast, accurate, reliable inspection solutions that leverage smart 3D technologies. Unlike contact based measurement or 2D vision, our products remove complexity and dramatically reduce implementation cost while achieving repeatable, highly accurate measurement.
Embedded Vision
This content is part of the Embedded Vision curated collection. To learn more about Embedded Vision,
click here
.