Linear Bearings Prove Invaluable for Leading Drill Manufacturer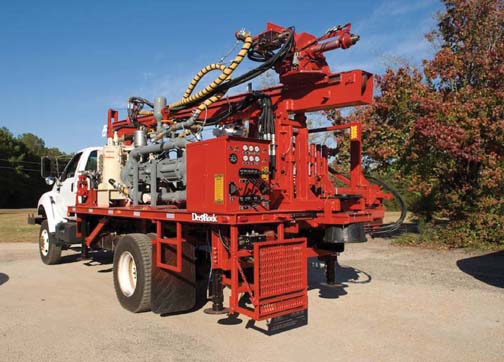 EAST PROVIDENCE, R.I. – May 15, 2008 – igus® Inc. today announced that DeepRock, one of the world's leading manufacturers of portable drilling rigs, uses DryLin® linear bearings on a unique automatic rod handling system. The machine—known as "Otto"—is designed to eliminate the need for winches and excessive manpower during the drilling process. DryLin R linear bearings, along with igus' DryLin S aluminum shafting, enable the drill's loading system, or "carrier", to handle and load drill pipes up to 75 pounds.

Otto uses DryLin R to enable the loader to move in a linear motion while it picks up and places pipes during the drilling process. The system previously employed a rack-and-pinion system, which made the machine susceptible to failure, as any dirt in the system's gear called for it to be replaced. DeepRock searched for a maintenance-free, dirt-proof solution and discovered DryLin R linear bearings.

The company chose DryLin R bearings because they are impervious to the various outdoor elements encountered by its drilling machines. Previously, dirt and mud constantly dropping onto the components and creating sludge caused the rack-and-pinion system to fail. Since DryLin requires no external lubrication and is completely dirt-resistant, this issue was completely eliminated.

"DryLin R is great for this dirty environment," said Rex Roach, vice president of engineering, DeepRock. "It works despite the harsh elements and requires no grease, which is a magnet for dirt."

Wear-resistant DryLin R drastically reduced downtime for DeepRock's customers. DryLin R and DryLin S perform more than 1,000 cycles per day with ease on the company's drilling machines.

End users also benefit from the design of DryLin R, which enables easy installation and replacement in this extreme application. The plastic liner is made from igus' iglide J200 material and can be pushed easily onto the shaft, with a split aluminum adapter that fits over the liner. DeepRock's carrier mechanism is comprised of a machined housing with linear bearings fitted inside. If DryLin R needs to be replaced, it only takes moments in the field because just the plastic liner needs to be replaced (without tools)—offering a potential reduction in replacement part costs up to 90 percent.

DeepRock also benefits from some of the additional services offered by igus. "igus does a wonderful job with CAD (computer-aided design) files and its catalog is a valuable source of information," said Roach. "igus' off-the-shelf solutions are fast and the fact that we get them right away is priceless."

To learn more about DeepRock, visit www.deeprock.com. To learn more about DryLin, for free samples or to discuss your application with a design technician, please call 1-888-803-1895. DryLin R is part of igus' comprehensive line of linear bearings and slide tables.

About igus
igus Inc., founded in 1985 and based in East Providence, R.I., develops and manufactures industry-leading plastic cable carriers, continuous-flex cables, plastic bearings and linear guide systems. With more than 28,000 products available from stock, the company meets the motion control and machinery component needs of customers worldwide. Product lines include Energy Chain Systems® to protect and house moving cables, Chainflex® continuous-flex cables, iglide self-lubricating, oil-free, plastic bearings, DryLin linear guide systems and igubal® spherical bearings. For more information, contact igus at (800) 521-2747 or visit www.igus.com.

igus, DryLin, iglide, Energy Chain Systems, Chainflex, DryLin and igubal are registered trademarks of igus Inc. All other company names and products are trademarks or registered trademarks of their respective companies.