Linea 8k Monochrome Camera
rong>New 8k model brings greater resolution to family of low-cost, high performance cameras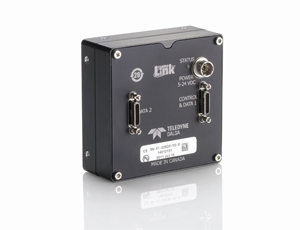 Teledyne DALSA, a Teledyne Technologies company and global leader in machine vision, today announced its high resolution 8k line scan camera - the latest addition to its Linea series of low-cost, high-value cameras. The feature-rich Linea cameras address the mainstream market for machine vision applications and delivers high speed and responsivity at an exceptional price point.

Like the 2k and 4k models, the Linea 8k monochrome model is built on the same powerful platform and acquires images at incredibly fast line rates of up to 80 kHz.

"Linea cameras are performing exceptionally well in customer trials right now," commented Behnam Rashidian, Senior Product Manager for Teledyne DALSA. "With the introduction of the 8k model, the Linea family redefines the price-performance ratio, offering system integrators speed, responsivity and low cost."

Features of the Linea single line camera series include:

High responsivity in the visible and NIR wavelengths
Multiple user coefficient and FFC calibration sets
Programmable and Flexible triggering
Support of Camera Link cables up to 10 meters
These compact, affordable cameras are ideal for general machine vision applications, including postal and parcel inspection, materials grading, food and web inspection, rail and road inspection, and pharmaceutical inspection. Linea will be on display at the Vision Show, Booth D54, November 4-6 in Stuttgart, Germany. Visit the Linea product page.

About Teledyne DALSA
Teledyne DALSA image sensors, cameras, smart cameras, frame grabbers, software, and vision solutions are used in thousands of automated inspection systems around the world and across multiple industries including semiconductor, solar cell, flat panel display, electronics, automotive, medical, packaging and general manufacturing.

An international leader in digital imaging and semiconductors with approximately 1,000 employees worldwide and headquartered in Waterloo Canada, the company designs and manufactures imaging products and solutions, in addition to providing specialized semiconductor products and services.