Level-Up Your Robot Manufacturing with the Inventor Plugin
Our new plugin for Autodesk Inventor gives you access to one of the world's top CAD/CAM packages, specially designed for manufacturing processes.
Autodesk Inventor is truly a superstar in the world of CAD/CAM programs. According to the CAD Trends survey, Inventor was the 3rd most used CAD package in 2018 after AutoCAD and SolidWorks.
At RoboDK, we're devoted to making your life easier whichever CAD system you are using. We already have a great plugin for SolidWorks. Now, we've added Inventor to the list of software that works seamlessly with RoboDK.
Let's look at what makes Inventor+RoboDK such a great paring for integrated, scalable robot manufacturing.
What is Inventor?
When you first look at Autodesk's Inventor, it can seem a bit curious that it exists at all.
Autodesk is a world-leading software company which was founded in 1982. They soon became famous for their groundbreaking CAD package AutoCAD. Before the software existed, the only way to do design products on a computer was to use a mainframe. AutoCAD brought that power to desktop machines for the first time.
At the time that Inventor was … well … invented in 1999, AutoCAD was a leader amongst desktop CAD software. It is still is today.
Why did Autodesk decide to make Inventor when they were already top of the industry?
The answer to this question has a lot to do with why RoboDK is such a good pairing with Inventor, and it is best demonstrated in a story…
Why RoboDK + Inventor is a Great Pairing
Jay Tedeschi was working at Autodesk in 1999 and was one of the first people to try the software that would later become Inventor.
As he told the Autodesk blog:
"Jay recalls sitting at the desk and being given no instructions on how to operate the program in front of him. He asked, "what do you do to start?" to which the developer said, "well, what do you think you do to start?" It was at this point that Jay began to understand the methodology that went into designing Inventor […] More than he had ever seen it before, these developers were designing the program to be intuitive for the end user."
Autodesk invested in building Inventor because it filled a niche… just like RoboDK fills a niche. RoboDK gives users the power to program any robot with ease. Inventor provides a very intuitive, scalable software specifically designed for manufacturers. At the time, SolidWorks was the leading software filling that niche and Autodesk wanted to keep its place at the top.
A Software Designed for Manufacturers
AutoCAD is still the leading CAD package, but it isn't perfect for all tasks. When you look at the two packages side-by-side you can get a good idea of Inventor's strengths for manufacturing:
Inventor was designed especially with manufacturers in mind whilst AutoCAD is for any designer.
Inventor is a dedicated 3D modeling package whilst AutoCAD is a 2D drafting package which can produce 3D shapes.
Inventor is mostly used for design and production, whilst AutoCAD is mostly used for 2D design and documentation.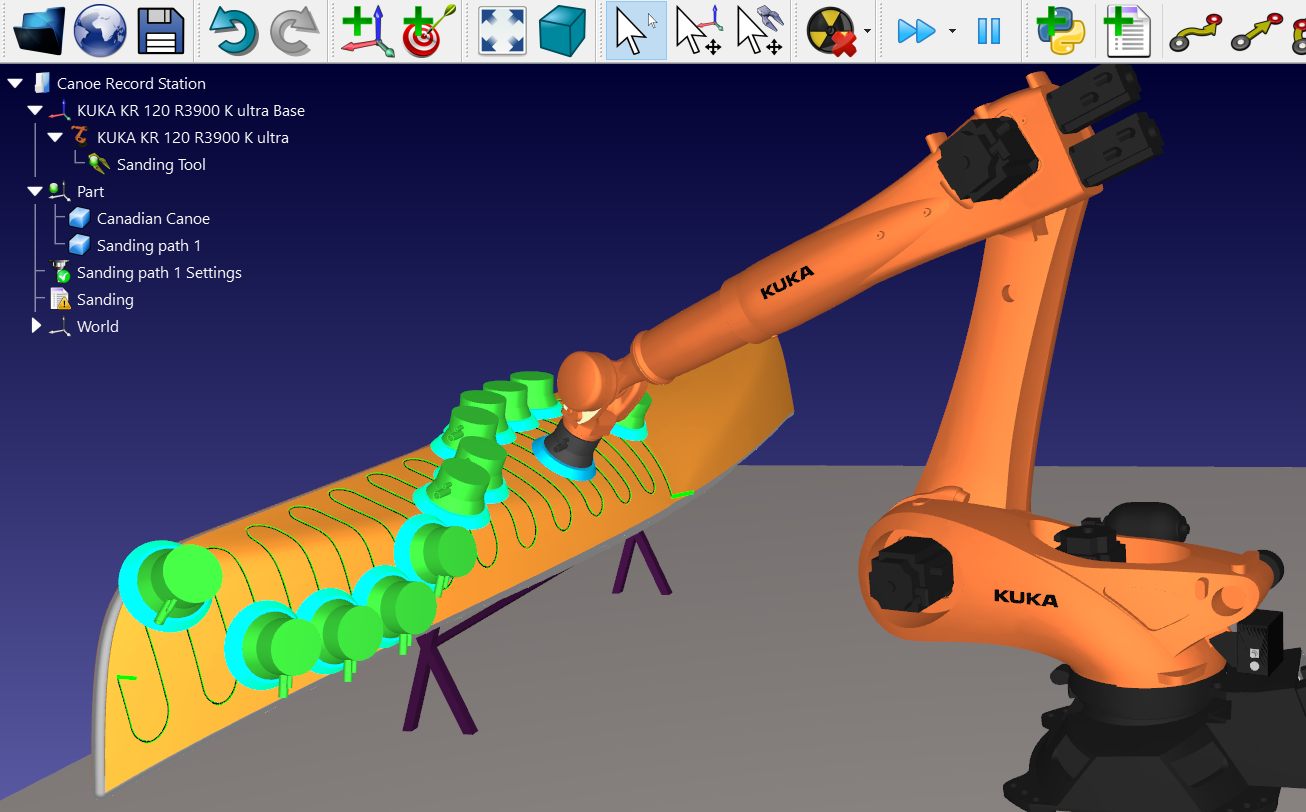 If you're looking to use RoboDK for robotic manufacturing, as many of our users are, the new Inventor integration is clearly a good way to go about it.
Introducing… the New Inventor Plugin
As with our existing plugins (for Rhino, Mastercam and SolidWorks) the main functions of the plugin are controlled by a set of 5 standard buttons for CAD operations:
Auto Setup — Select your geometries within Inventor (curves, points, models) and they will be loaded into RoboDK along with the 3D model.
Load Part — Sends the 3D model directly from Inventor to RoboDK
Load Point(s) — Select a set of points and surfaces to create a new "point follow" program within RoboDK
Load Curve(s) — Select a set of curves and surfaces to create a RoboDK "curve follow" program.
Settings — Customize the plugin by changing tolerances, scales and exported file type for 3D models. You can also define the names that objects will have when they appear in RoboDK.
The Inventor plugin also contains two new buttons which make use of Inventor's integrated CAM functionality:
Load NC Program — This loads the machining program from Inventor into RoboDK. If you are using multiple machining tools, it will create a new program for each tool.
Generate Robot Program — This allows you to generate the robot programs within RoboDK without ever needing to leave Inventor, which will speed up your workflow.
Is the Plugin Right for You?
If you are already using Inventor and you're thinking of trying out robotic manufacturing, the new plugin is definitely worth a look. If you haven't tried RoboDK yet, the plugin is a perfect excuse to give it a go! You can get a free demo version on the downloads page.
Why Inventor + RoboDK Will Level-Up Your Simulations
One of Inventor's great strengths is digital prototyping. It has many integrated simulation tools which allow you to thoroughly test your products before you build the real components. Then, its integrated CAM functionality makes it easy to turn these designs into real products.
Before our new plugin existed, you would have had to leave Inventor in order to build and generate a robot program in RoboDK. This would have slowed down your software workflow and reduced the productivity of your whole system.
Now, the RoboDK plugin means that you can operate everything from within Inventor itself. Once you've got your robot station set up, you can even generate the robot program from the plugin toolbar without having to switch over to RoboDK at all.
You can now design, test, and produce your products all from inside Inventor, which can only be a good thing.
How to Get Started Using the New Inventor Plugin
The best way to test the new plugin's capabilities is to try it out for yourself!
Download the latest version of RoboDK (if you haven't already) and check out the documentation page, which explains all the functionality of the plugin in detail.