Lenze - SMVector Inverter
SMVector Drive portfolio features new compact, cost-effective 40, 50 and 60 HP workhorses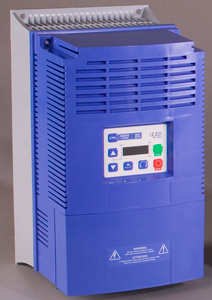 Lenze Americas (PACK EXPO Booth #S-5360), a leading global manufacturer of electrical and mechanical drives, motion control and automation technology, recently rolled out three new SMVector NEMA 1 models. The 40, 50 and 60 HP SMVector drives deliver superior performance and design flexibility in a broad range of AC motor applications.
"The workhorse of the Lenze inverter portfolio, SMVector drives are deployed in diverse applications—from packaging and conveying to material handling, positive displacement pumping, and HVAC systems," states Steve Dextraze, Inverter Product Manager, Lenze Americas.
SMVector drives provide robust features for demanding applications, including four modes of operation – V/Hz, Enhanced V/Hz, Vector Speed, and Torque – plus high starting torque, auto-tuning, advanced low-speed control, and dynamic speed regulation. Designed by Lenze as a universally applicable inverter, the SMVector has an input voltage ranging from 120VAC 1-phase to 600 VAC, 3-phase. The removable EPM (electronic programming module) memory chip allows customers to store operational memory and parameter settings for fast and efficient programming of multiple drives.
Accompanied by a major software upgrade, the new SMVector 40, 50 and 60 HP drives feature sequencer mode operation where up to 16 segments can be set, each at an individual frequency set-point, acceleration/deceleration time, digital output state, and analog input value. Advanced setup parameters include analog input configuration, deceleration override time, voltage midpoint and frequency midpoint V/Hz characteristics.
Plug-in communication modules make the SMVector easily integrated into commonly used industrial networks, including Modbus/RS485, DeviceNet, CANopen, PROFIBUS DP and EtherNet/IP, among others. Programmable digital and analog I/O allow SMVector drives to be configured for application-specific tasks, such as presetting multiple speeds, electronic braking, and motor jogging. The integrated dynamic brake connection requires only an external resistor for fast stopping or deceleration.
"Expanding the SMVector line with 40, 50 and 60 HP models allows Lenze customers to meet even greater power requirements with our most technically advanced and feature-rich compact inverter design," concludes Dextraze.
About Lenze Americas
Lenze is a global manufacturer of electrical and mechanical drives, motion control and automation technology. Our products can be found in many industries, including automotive, packaging, material handling and logistics, robotics, and commercial equipment (pumps/fans). A global network of distributors and representatives makes Lenze Americas perfectly positioned to meet the motion control needs of customers worldwide. Lenze Americas, the American subsidiary of Lenze SE of Germany, is headquartered in Uxbridge, Massachusetts; corporate global headquarters are in Hamelin, Germany.