Lenze SE Names Chuck Edwards President of Lenze Americas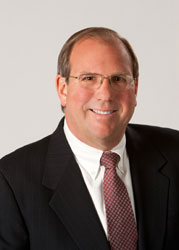 UXBRIDGE, MA – FEBRUARY 8, 2010 – Lenze SE, headquartered in Hameln, Germany announces the appointment of Chuck Edwards as President of Lenze Americas which includes Lenze-AC Tech. In taking responsibility for Lenze Americas, Edwards will also become a member of the global Lenze SE Executive Committee.
"We appreciate winning an experienced and successful senior executive like Mr. Edwards for Lenze. With his experience, market knowledge and leadership we will continue to further develop our position in American markets," says Dr. Tellbüscher, Chairman of the Board of Management, Lenze SE, adding, "Edwards is powerfully effective in building and leading organizations and his understanding of global product development, sales and marketing is outstanding."
Lenze SE Board Member Frank Maier maintains "Edwards brings global market knowledge, sales experience and profound leadership principles to Lenze Americas;
his previous accomplishments at Molex Incorporated (MOLX), Woodhead Industries and Rockwell Automation (ROK) set him apart from his peers."
"The machine automation market is extremely diverse, with almost unlimited opportunity. Customers are striving for ever increasing machine performance," says Edwards adding "At Lenze, we are focused on partnering with our customers to enhance their equipment through the combination of intelligent drives, motion control and mechanical technologies, supported by our wide ranging application expertise."
Edwards has over 30 years of industrial automation and executive experience. He holds a BS in Electrical and Computer Engineering from Purdue University and an MS in Engineering Management from the Milwaukee School of Engineering. He is a member of the Dean's Executive Council for the College of Technology at Purdue University and has also recently served on the Board of Directors of the Electronic Components Association.
Lenze Americas (which includes Lenze-AC Tech products) develops, manufactures, markets and supports a complete range of motion control solutions, including servo drives and motors, clutches and brakes, gears and gear motors and variable frequency AC
motor drives. Lenze-AC Tech's portfolio of AC Drive products extends from some of the world's smallest sub-micro drives up through large, 500 HP. With North American headquarters in Uxbridge, Massachusetts and a global network of distributors and representatives, Lenze-AC Tech is perfectly positioned to meet the motion control needs of customers worldwide.