Lenze Machine Modularization Keeps Pace in Age of Industry 4.0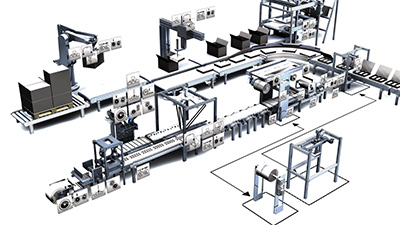 End-to-end modular drive solutions and software tools expedite time-to-market for innovative machines
UXBRIDGE, MA – A global leader and manufacturer of electrical and mechanical drives, motion control and automation technologies, Lenze offers modular software, scalable hardware and modern interfaces to minimize engineering requirements and expedite machine motion control. Lenze modular solutions offer substantial benefits by breaking down complex motion sequences into functional mechatronic units—and seamlessly linking mechanics, electronics and software.
"Why modular? That's easy. By adopting a modular concept, machine builders can keep pace in this dynamic age of Industry 4.0," said Doug Burns, director of sales and marketing, Lenze Americas. "Our portfolio of modular drive solutions and software tools supports flexible design and shorter lead-times to bring innovative machines to market faster."
Structured control technology, modern field bus networking, and software-based motion control are the key elements of a Lenze modular motor drive control solution. Lenze right-sized and optimally equipped drive and control modules use manufacturer-independent standards and modern communication interfaces— Ethercat or CANopen and such standards as IEC 61131 (PLCopen), OPC UA or OMAC PACKML—to ensure machines communicate seamlessly and synchronously.
Bus architectures must accommodate the addition or elimination of modules and devices. Lenze simplifies this function by integrating an 'optional device' function allowing for the widest basic configuration—so, engineers can easily customize via selection or de-selection. The process saves time and paves the way toward virtual machines and virtual commissioning. Vital to synchronous production, Lenze drive solutions define cycles according to a valid time stamp via an Ethercat bridge to synchronize clocks of different devices. The sync bridge assumes the function of a master clock for a network.
Lenze FAST Software makes it easy to develop motion control concepts by adding individual modules using an application template. The software toolbox provides a complete range of standard software modules for positioning, cam profiling, multi-conveyor coordination and other synchronized motion control tasks, including modules for feeding, unwinding, sealing, cross-sealing and discharging programming. Designed to expedite machine programming, preconfigured FAST Software modules only require parameter setting, thereby eliminating traditional programming. Up to 80 percent of machine software engineering requirements are covered by FAST modules.
"Intelligent modular concepts from Lenze give engineers more freedom to focus on developing a machine's exciting performance factors," adds Burns.
About Lenze Americas
Lenze is a global manufacturer of electrical and mechanical drives, motion control and automation technology. As a global specialist in Motion Centric Automation, we offer our customers products, drive solutions, complete automation systems, engineering services and tools from a single source. We are a leading provider of automation solutions to the packaging industry, and our other focus industries include automotive, material handling and logistics, robotics, and commercial pumps/fans. With a global network of engineers, sales representatives, and manufacturing facilities, Lenze is well-positioned to meet the motion control needs of customers worldwide. Lenze Americas, the American subsidiary of Lenze SE of Germany, is headquartered in Uxbridge, Massachusetts, with an assembly and logistics center in Glendale Heights, Illinois. Corporate global headquarters are in Hamelin, Germany.