Lenze Introduces Smart Motor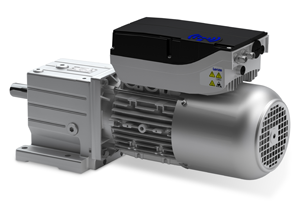 Fully programmable from a smart phone the ingenious Smart Motor blends the simplicity of an AC motor with the technical benefits of an electronic drive control in packaging automation.

Leading global manufacturer of electrical and mechanical drives, motion control and automation technology, Lenze Americas recently introduced its innovative Smart Motor designed for applications ranging from material handling to packaging automation. Blending the simplicity of a conventional AC motor with electronic drive control technology, Lenze's versatile Smart Motor was showcased at PACK EXPO in September.

"In a complex world of motors, Smart Motor keeps it simple," states Robert Gradischnig, electro-mechanical business development manager, Lenze Americas. "The Smart Motor gives packaging customers the power and freedom they want in motion control, with freely adjustable speeds, programmable I/O and integrated functions for conveying needs. Fully programmable from a smart phone, the Smart Motor makes commissioning and diagnosis easier than ever."

Offering a highly versatile and powerful package, the Smart Motor delivers maximum standardization—drastically reducing (by up to 70 percent) the number of different motor variations customers might otherwise need. Equipped with control intelligence in the terminal box, the Smart Motor provides design flexibility for speeds from 500 to 2,600 rpm, while maintaining constant torque. The easy-to-install motor enables mains and starter applications to be handled with greater ease than with conventional motors.

The Smart Motor complies with IES2 the top efficiency class for drive systems, while maintaining a small footprint. Among its standard functions, the Smart Motor enables speed switchovers and the ability to set individual start-stop ramps. Integrated ramps ensure smooth acceleration and deceleration to protect the system mechanics and product being handled. The Smart Motor features full motor protection, eco mode for energy savings, and digital outputs for speed selection, direction and status messages.

"Packaging tasks often need higher starting torque, followed by continuous torque. The Smart Motor has been designed and dimensioned to specifically meet this requirement," adds Gradischnig. "By reducing the total number of different motors required for a given operation, our packaging customers can reduce the costs for engineering, documentation, procurement and spare parts—key aspects in the value-added chain."

To learn more about the newly released Smart Motor and other material handling automation solutions from Lenze, please visit us online.