Lenze i500 Frequency Inverter Series Features Enhanced WLAN Diagnostics Module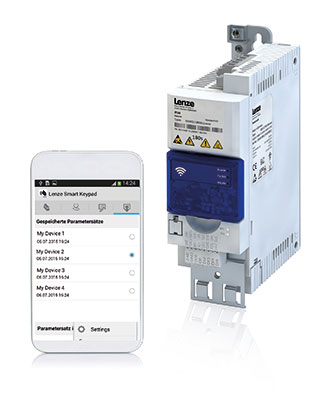 Newest i500 launch enables user-friendly parameter setting, storage, adjustment via smartphone app
UXBRIDGE, MA – Lenze has launched an enhanced version of its i500 frequency inverter series, equipped with a WLAN diagnostic module for easy parameter setting when commissioning and diagnosing motor inverters for a range of machine applications, including pumps and fans, conveyors, formers, winders, traveling drives, tool and hoist drives. Lenze is a global leader and manufacturer of electrical and mechanical drives, motion control and automation technologies.
A keypad, USB interface, and the new WLAN module are now standard on the entire Lenze i500 frequency inverter i500 series. Featuring a Lenze Easy Starter PC tool and WLAN diagnostics over a smart keypad app, the i500 frequency inverter optimizes programming control. The WLAN module communicates wirelessly with a PC or Lenze smart keypad app. The Android smart keypad app is available for free download over Google Playstore. A fully-fledged alternative to the functions of a hardware keypad, the smart keypad app offers numerous benefits, including intuitive user operation and display, and wireless communications.
A parameterization solution, the easy-to-use Lenze smart keypad app allows for i500 frequency inverter parameter settings to be conveniently downloaded, stored, and emailed for analysis. Adjustments to the i500 frequency inverter can be performed from a safe distance during operation, even on a traveling drive or remote machine equipment. Parameter settings are able to be diagnosed remotely and returned electronically for easy upload to the i500 frequency inverter.
The Lenze space-saving i500 frequency inverter series enables communication over EtherCAT, EtherNET/IP and PROFINET, in addition to compatibility with standard field buses. The i500 frequency inverter modules are available in the 0.33 to 100 Hp (0.25 to 75 kW) power range for scalable functionality. The wide-ranging modular system allows for various product configurations depending on machine requirements.
About Lenze Americas
Lenze is a global manufacturer of electrical and mechanical drives, motion control and automation technology. As a global specialist in Motion Centric Automation, we offer our customers products, drive solutions, complete automation systems, engineering services and tools from a single source. We are a leading provider of automation solutions to the packaging industry, and our other focus industries include automotive, material handling and logistics, robotics, and commercial pumps/fans. With a global network of engineers, sales representatives, and manufacturing facilities, Lenze is well-positioned to meet the motion control needs of customers worldwide. Lenze Americas, the American subsidiary of Lenze SE of Germany, is headquartered in Uxbridge, Massachusetts, with an assembly and logistics center in Glendale Heights, Illinois. Corporate global headquarters are in Hamelin, Germany. Visit www.Lenze.com for more information.
Company Contact
Susan Duval, Marketing Manager
Tel: (508) 278-9100 ext. 7544