Lenze - Enhanced Lenze 8400 Motec Decentralized Inverter Drive
Plug-and-drive I/O communication interfaces streamline inverter drive commissioning and enable wider range of decentralized applications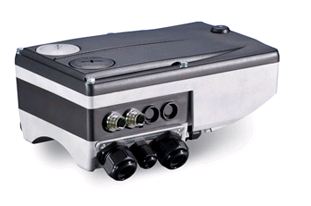 Lenze Americas, a leading global manufacturer of electrical and mechanical drives, motion control and automation technology, has enhanced its new, decentralized 8400 motec frequency inverter drives to enable plug-and-drive communication via real-time Ethernet networks. The addition of plug-in interfaces for PROFINET and EtherCAT make it possible to seamlessly integrate the relatively simple variable speed 8400 motec drives into existing, high-performance communications networks.
"Our extensive portfolio of integrated gearboxes, motors and motor inverters opens up a wide range of solutions for decentralized drive tasks," states Craig Dahlquist, Product Leader Applications Engineer, Lenze Americas. "The upgraded 8400 motec drive delivers easy Ethernet communication, without any detours, which offers significant benefits over conventional bus systems."
The 8400 motec inverter drives are power dense, energy efficient and a dynamic solution for controlling motion at the source. Suitable for applications in plants covering large areas, in particular for decentralized drive solutions in the power range between 0.37 and 3 kW, the 8400 motec inverter constitutes a robust mechatronic unit that offers optimal plant flexibility. The sophisticated design structure comprises three modules—a drive unit, communication unit and wiring unit. The compact size and IP 65 protection rating make the 8400 motec suitable for screw mounting outside the control panel directly on or near the motor—enabling quick commissioning and space savings in the control cabinet.
In comparison with conventional bus systems, which have one data bundle for each separate node, the 8400 motec inverter eliminates the need for extra hardware and an "interpreter" between various protocols. The addition of direct I/O connections to PROFINET and EtherCAT to the communication unit simplifies the process of integrating decentralized Lenze drives into the control system.
"By clarifying the plant automation architecture and streamlining hardware requirements, we are able to drive down total cost of ownership—and bring Lenze 'easy' engineering to more of our customers," adds Dahlquist.
About Lenze Americas
Lenze is a global manufacturer of electrical and mechanical drives, motion control and automation technology. Our products can be found in many industries, including automotive, packaging, material handling and logistics, robotics, and commercial equipment (pumps/fans). A global network of distributors and representatives makes Lenze Americas perfectly positioned to meet the motion control needs of customers worldwide. Lenze Americas, the American subsidiary of Lenze SE of Germany, is headquartered in Uxbridge, Massachusetts; corporate global headquarters are in Hamelin, Germany.