Lenze Brings Robot Programming Module to Gantry Pick-and-Place Applications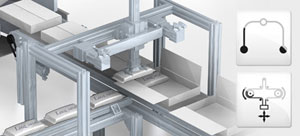 Software engineering made easy with FAST application software module for robot kinematics and multi-axis coordination
Uxbridge, MA – Lenze, a global manufacturer of electrical and mechanical drives, motion control and automation technology, is paving the way for easy configuration of pick-and-place robotics used in the areas of intralogistics, packaging technology, assembly and material handling systems. Robotic motion for gantry systems and automatic stackers is designed more easily with the robotics module in the Lenze FAST application software.
"Most gantry robots operate on a single axis using a PLC-controlled positioning drive. Until now, gantry robot kinematics with coordinating axes required complex, time-consuming programming," states Doug Burns, director of business development, Lenze. "The powerful pick-and-place module in our FAST software brings together the tools engineers need for fast, productive, and flexible handling systems."
Gantry robotic systems are used primarily for stacking and moving wood, metals, plastics, glass or other materials. The Lenze FAST technology module for pick-and-place or any complex movement combines robotic functions in a drive solution that is as easy to parameterize as a single-axis movement. The FAST module effectively replaces PLC-controlled gantries with sequential motion commands that can be tailored to specific tasks. Intrinsically synchronous travel profiles result in substantially less wear on the mechanical parts of a machine than point-to-point positioning. Smarter path planning means a machine can be designed for higher energy efficiency and faster operation using smaller drives.
Based on PLCopen Part 4 for all main and auxiliary axes and using the IEC 61131 programming environment, FAST software technology allows integration of additional drive tasks, such as upstream and downstream conveyor drives using the same controller and inverter drives. A kinematic model developed by Lenze in partnership with universities simplifies the steps needed to integrate robots into an overall automation system. Even complex drive systems requiring multi-axis coordination can be programmed quickly. By streamlining the engineering process, FAST modules allow design engineers to devote more of their time to optimizing value-added machine features.
"Lenze specializes in making motion control easy, efficient and productive. Ready-made kinematic modules in our FAST application software provide customers the freedom to leverage robotics in their machines and plants with even greater confidence," adds Burns.
Lenze offers integrated FAST modules for different types of gantry robots, in addition to modules for Delta 2, Delta 3, buckling arm and SCARA robots. Every FAST application software module comes with a visualization system for testing purposes.
About Lenze Americas
Lenze is a global manufacturer of electrical and mechanical drives, motion control and automation technology. As a global specialist in Motion Centric Automation, we offer our customers products, drive solutions, complete automation systems, engineering services and tools from a single source. We are a leading provider of automation solutions to the packaging industry, and our other focus industries include automotive, material handling and logistics, robotics, and commercial pumps/fans. With a global network of engineers, sales representatives, and manufacturing facilities, Lenze is well-positioned to meet the motion control needs of customers worldwide. Lenze, the American subsidiary of Lenze SE of Germany, is headquartered in Uxbridge, Massachusetts, with an assembly and logistics center in Glendale Heights, Illinois. Corporate global headquarters are in Hamelin, Germany.
Company Contact
Susan Duval - Marketing Manager
Tel: (508) 278-9100 ext. 7544