Lenze - AC Tech - 8400 Motec Inverter Drive
Combined with MF Series three-phase AC motors and Lenze gearboxes, the 8400 motec drive is power dense, energy efficient and a dynamic solution for controlling motion at the source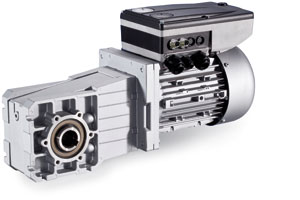 UXBRIDGE, MA – Lenze Americas, a leading global manufacturer of electrical and mechanical drives, motion control and automation technology, announced today the launch of the compact 8400 motec inverter drive, which is equipped for all drive functions and scaled to deliver energy efficiency in material handling applications.

"Steering the whole drive package, the space-saving 8400 series is expertly integrated with high efficiency Lenze motors, gearboxes and brakes," notes Darrow Hanesian, Global Director of Inverter Products, Lenze Americas. "For decentralized applications, the 8400 motec frequency inverter is a great fit."

Tough enough for almost any environment, the IP66 enclosure, with its modular design, encases three units—the drive, communication and wiring units. Available in a power range from 0.37 to 3.0 KW, the unit can be mounted either on the geared motor or wall-mounted for space savings in the control cabinet, reduced shielded motor cable length, and expedited commissioning. When employed with asynchronous motors, the drive's "VFC eco" mode permits the motor to be operated in partial load (in applications with constant or slowly changing loads) providing a 10-30% increase in energy efficiency.

The L-force Engineer configuration software affords simple commissioning and optimal control with the 8400 motec. Equipped with a large LED, operation and error status are clearly visible from a distance for simple diagnostics. The replaceable memory module stores all parameters further simplifying set-up and service while increasing system uptime. With CANopen, AS-i and PROFIBUS communication options, the 8400 motec is ready for network installation common in many industrial applications.

"The most important requirements for drive systems with conveyor lines are high reliability and robustness, together with a long service life, low maintenance costs, and low energy consumption during long operating periods," adds Hanesian. "Yielding up to a 30 percent decrease in energy consumption means mighty savings with the mini 8400 motec."

About Lenze Americas
Lenze is a global manufacturer of electrical and mechanical drives, motion control and automation technology. Lenze products can be found in many industries, including automotive, packaging, material handling and logistics, robotics and commercial equipment (pumps/fans). A global network of distributors and representatives makes Lenze Americas perfectly positioned to meet the motion control needs of customers worldwide. Lenze Americas, the American subsidiary of Lenze SE of Germany, is headquartered in Uxbridge, Massachusetts; corporate global headquarters are in Hamelin, Germany.