Lenze - 8400 TopLine inverter drives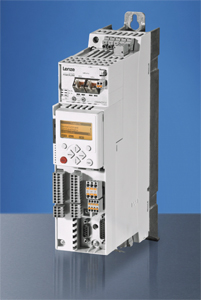 Lenze Americas, a leading global manufacturer of electrical and mechanical drives, motion control and automation technology, has improved the functionality of its 8400 TopLine inverter drives, which now include an automatic axis bus system and special function blocks for speed and angle synchronization. The new 8400 TopLine inverter drive automatic axis bus works with the standard CAN system bus and fits seamlessly into servo applications. The 8400 TopLine inverter drive also supports SinCos absolute encoders (Hiperface®) and SinCos encoders.
"Simplicity and flexibility of configuration are clear advantages of the enhanced 8400 TopLine inverter drives. The axis bus enables easy construction of direct and cascade configurations. This optimizes the bus bandwidth through synchronization at the hardware level," states Craig Dahlquist, senior applications engineer, Lenze Americas.
Designed for applications using electrical shafts for synchronization, two fundamental topologies can be constructed using the 8400 TopLine automatic axis bus system. In the first scenario, all drives in the network are connected to the higher-level master controller, with data being exchanged between the axes. Alternatively, an architecture in which only one axis bus master acts as the link to the controller is appropriate, when the controller only needs to supply a small amount of information to the group of axes.
The Lenze 8400 BaseLine, StateLine, HighLine and TopLine versions are a scaled series of frequency inverters to exactly match speed and torque requirements. In addition to the automatic axis bus, the 8400 Topline inverters incorporate L-Force control and software to deliver high dynamic performance and intelligent features, including memory modules, online diagnostics and optional integrated safety systems.
Available in 16 power levels ranging from 0.37 to 45kW, the 8400 TopLine can perform at up to 300 cycles per minute with 0.01mm accuracy in continuous positioning tasks, pick-and-place, storage and retrieval units, rotary and lifting modules, as well as handling systems. Featuring an energy-saving V/f characteristic control mode (VFCplusEco), the 8400 TopLine ensures optimal motor voltage and operational efficiency.
"The 8400 TopLine is an easy choice for high power efficiency and control of synchronous motors in virtually any application where high precision, dynamics and speed are required, adds Dahlquist.
About Lenze Americas
Lenze is a global manufacturer of electrical and mechanical drives, motion control and automation technology. Our products can be found in many industries, including automotive, packaging, material handling and logistics, robotics, and commercial equipment (pumps/fans). A global network of distributors and representatives makes Lenze Americas perfectly positioned to meet the motion control needs of customers worldwide. Lenze Americas, the American subsidiary of Lenze SE of Germany, is headquartered in Uxbridge, Massachusetts; corporate global headquarters are in Hamelin, Germany.