Lenze - 8400 Protec Frequency Inverter Drive
L-force Inverter drives 8400 protec to deliver quick commissioning in a range demanding applications in the automotive, logistics, and printing sectors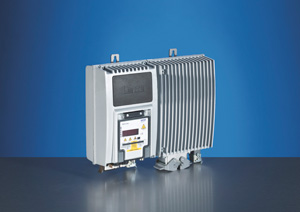 Lenze Americas, a leading global manufacturer of electrical and mechanical drives, motion control and automation technology, announced today the release of the Plug and Drive 8400 protec frequency inverter drive for decentralized applications and those requiring integrated positioning.

"For decentralized applications that require precision positioning, the 8400 protec frequency inverter is in the right place—mounted on the line or wall adjacent—ready to start, on the spot," says Darrow Hanesian, Global Director of Inverter Products, Lenze Americas.

The Lenze 8400 protec inverter ships ready to install with innovative Plug and Drive Technology, in addition to standard mains, motor, brake and communications connectors. All terminals of the 8400 protec, ranging from the shielded motor cable to the power supply and the fieldbus link, and including the terminal for the sensors, are equipped with standardized connectors to reduce installation time and increase plant availability and productivity. Standard communication is via PROFIBUS and PROFINET with CANopen as an option.

An optional brake resistor can be integrated or externally connected. The motor connector includes a motor temperature sensor. For mains, optional energy bus (daisy chain) or 24V internal connections are available. The Safe Torque OFF (STO) option offers drive-based safety to protect the drive and user by disabling the drive and disconnecting the power supply to the motor so the drive cannot generate torque.

The 8400 protec features straightforward diagnostics with an easy-to-read LED display, plus 18 individual LEDs indicating status, communications, safety and I/O functions. It's equipped with L-force Engineer configuration software which enables easy commissioning and optimal control. The replaceable memory module stores all parameters for fast replacement with minimal downtime.

Adds Hanesian, "With its tough IP66 enclosure, the 8400 protec is equally at home in material handling operations on a rotary indexing table, a conveyor, or lifting apparatus. The rugged and compact package mounts directly at the point of application for space savings and quick commissioning."

About Lenze Americas
Lenze is a global manufacturer of electrical and mechanical drives, motion control and automation technology. Lenze products can be found in many industries, including automotive, material handling, packaging, robotics, and commercial equipment (pumps/fans). A global network of distributors and representatives makes Lenze Americas perfectly positioned to meet the motion control needs of customers worldwide. Lenze Americas, the American subsidiary of Lenze SE of Germany, is headquartered in Uxbridge, Massachusetts; corporate global headquarters are in Hamelin, Germany.