Leine & Linde Offers New Stainless Steel Model 600 Encoder for Severe Environments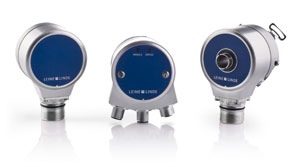 Leine & Linde introduces a new stainless steel version of the well known ISA and IHA 600 series of absolute rotary encoders. Designed to provide motion control and feedback for machines in harsh environments, the IXA 600 stainless steel model is useful in applications where the encoder is subjected to saltwater, acids, or other aggressive cleaning solvents.
The ISA and IHA 600 series are robust absolute encoders based on inductive scanning technology. This innovative technology avoids glass, plastic, and thin metal disks to improve motion feedback reliability regardless of vibration, shock, or temperature extremes. To further enhance availability in harsh environments, this new IXA 600 model is offered with the enclosure, flange and shaft all made of stainless steel material. This steel, EN 1.4404/AISI 316L, has the grading A4 which means it is of austenitic steel and can be used in a variety of corrosive applications.
The new model IXA 600 is available in both solid and hollow shaft configurations. Communications with control electronics can be provided via EnDat, SSI, PROFIBUS, PROFINET, CAN Open, Device Net and Incremental quardature formats. For example, 31-bit position with EnDat plus 1Vpp outputs can be provided.
About Leine & Leine
Leine & Linde is based in Sweden with exclusive North American distribution through HEIDENHAIN Corporation in Schaumburg, IL. Leine & Linde is well known for offering high quality, heavy duty encoders of both the incremental and absolute types, are noted for their product robustness and design to cope with the harshest of environments, such as those with high vibration, dirt and cold temperatures. These heavy, severe duty encoders are suited for drive and measurement applications and are often found in industries such as pulp and paper, forest and wood processing, agriculture, aggregate and mining equipment.
Company Contact
Bob Setbacken
Tel: 805-562-1160