LED Structured Lighting Projectors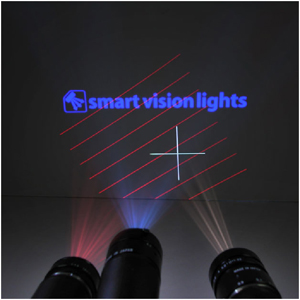 Smart Vision Lights is pleased to announce the release a new series of LED structured light projectors. LED projectors use patterns and optics to provide a focused structured light. SP series pattern projectors integrate precisely etched masks. Standard pattern masks are single line, multiple line(8), grid(8x8), cross hair, circle, and half moon. Although any shape can be achieved by custom etching patterns, even company logos. Any kind of pattern or shape can be easily supplied, integrated, and projected. Different wavelengths, including UV and IR are available. The size of the projection area can be easily modified by interchanging the projection optics. SP series projectors utilize standard C-mount 2/3" format lenses. Telecentric lenses can also be used for telecentric pattern projection.
SP30 Pattern Projector Light
The SP30 Pattern Projector uses a single 5 watt LED. It is available in White, Red, Amber, Blue, Green, Cyan, UV and IR. No need for an external driver as the SP30 includes an integrated constant current driver with a built in strobe input with option for PNP or NPN trigger control operating off of 24DVC power. The SP30 is also available in high output OverDrive "Strobe Only" version. The ODSP30 is twice as bright as the standard SP30.

For more information click here.