LEC-iMX6 SMARC® Module with Freescale i.MX6 System-on-Chip
rong>Ultra-small form factor targets power-efficient mobile applications and offers fast time-to-market and high reliability

San Jose, CA - ADLINK Technology, a leading global provider of cloud-based services, intelligent gateways, and embedded building blocks for edge devices that enable the Internet of Things (IoT), today introduced a new SMARC® (Smart Mobility ARChitecture) form factor computer-on-module (COM) running a Freescale i.MX6 processor based on the ARM Cortex-A9 architecture with a choice of dual or quad-core processors running from 800 MHz to 1.2 GHz with soldered memory up to 2GB DDR3L-1066/1333. The ADLINK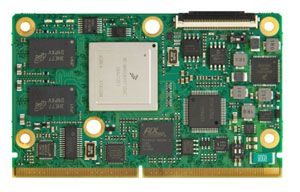 LEC-iMX6 delivers top-of-the-line performance with efficient power consumption that targets a new generation of mobile applications requiring industrial-grade stability and reliability, and supports a wide operating temperature range of -40°C to +85°C thanks to ADLINK's proven Extreme Rugged™ design processes.

The SMARC® form factor is a versatile, ultra-small footprint COM defined predominantly by ADLINK and Kontron and approved by the SGET (Standardization Group for Embedded Technology) consortium. SMARC® is an open and global standard for a new generation of embedded applications featuring low power, low cost and high performance, taking advantages from both legacy x86 and ARM-based designs. ADLINK has previously released SMARC® modules with ARM-based cores (LEC-3517), as well as x86 platforms (LEC-BT). The low power design of SMARC allows for passive heat dissipation and enables smaller, quieter and cleaner systems.

The ADLINK LEC-iMX6 is a short size 82 mm x 50 mm module. Each module supports LCD controllers for up to three independent displays (including a 24 bit TTL parallel display, an HDMI1.4a and single channel, 24 bit LVDS display).

An optional eMMC flash (from 4GB to 64GB) is supported, which can be used as a boot device. The LEC-iMX6 features a single Gigabit Ethernet port, one PCIe x1 Gen2 port, MIPI CSI camera interface (2 lanes), three USB 2.0 ports (2x USB host, 1x USB OTG), up to 12 GPIO, one SD/MMC and a SATA 3 Gb/s port. Support is also provided for 2x SPI, 1x SMBus, 1x I2S, 1x S/PDIF, 2x CAN, 4x UART and 3x I2C. The module comes with a U-Boot boot loader and supports multiple operating systems.

The LEC-iMX6 is designed for portable or small stationary systems with application scenarios for industrial automation, medical, testing and measurement, transportation and digital signage, and is especially suited for systems requiring high performance graphics in mobile applications. LEC-iMX6 modules can operate in a wide temperature range of -40°C to +85°C. Commercial grade temperature SKUs supporting 0°C to +60°C operation are also available. Paired with ADLINK's SEMA (Smart Embedded Management Agent) Cloud device-to-cloud platform that enables remote monitoring, control and management, the LEC-iMX6 is an ideal building block for developing IoT devices with a secure connection to the cloud.

For more information, please visit: http://www.adlinktech.com/Computer-on-Module/SMARC

About ADLINK
ADLINK Technology is enabling the Internet of Things (IoT) with innovative embedded computing solutions for edge devices, intelligent gateways and cloud services. ADLINK's products are application-ready for industrial automation, communications, medical, defense, transportation, and infotainment industries. Our product range includes motherboards, blades, chassis, modules, and systems based on industry standard form factors, as well as an extensive line of test & measurement products and smart touch computers, displays and handhelds that support the global transition to always connected systems. Many products are Extreme Rugged™, supporting extended temperature ranges, shock and vibration.

ADLINK is a Premier Member of the Intel® Internet of Things Solutions Alliance and is active in several standards organizations, including PCI Industrial Computer Manufacturers Group (PICMG), PXI Systems Alliance (PXISA), and Standardization Group for Embedded Technologies (SGeT).

ADLINK is a global company with headquarters in Taiwan and manufacturing in Taiwan and China; R&D and integration in Taiwan, China, the US, and Germany; and an extensive network of worldwide sales and support offices. ADLINK is ISO-9001, ISO-14001, ISO-13485 and TL9000 certified and is publicly traded on the TAIEX Taiwan Stock Exchange (stock code: 6166).

All trademarks are the property of their respective owner in the United States and other countries.