LBFS Multi-Purpose Level Sensor
rong>LBFS Sensor Reliably Monitors Liquid Levels for the Beverage Industry

Southington, Conn. - Baumer has introduced the new LBFS multi-purpose level sensor, designed to recognize and monitor all types of liquids stored in containers and tanks in the beverage industry. This level sensor offers specific settings that allow it to ignore adherent liquids like sticky syrups and adhesive foams that can cause inaccurate reading with conventional level switches. A hygienic version of the sensor is certified to EHEDG and 3A standards.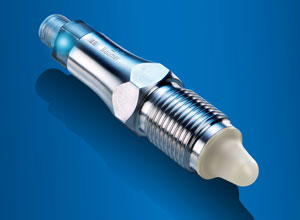 The LBFS sensor employs frequency sweep technology to distinguish between liquid levels and adherent residues. By measuring the medium-specific permeability of the electrical field of the actual liquid target material, the sensor can distinguish the liquid from any adherent residue or foam, eliminating the risk that a connected pump will run dry due to an inaccurate reading. This technology is regarded by plant manufacturers and beverage producers as the most reliable liquid level detection system currently available.

Baumer's hygienic version of the LFBS sensor features a 1.4404 stainless steel housing and matching PM023 weld-in boss. The sensor tip is made of a specifically-approved PEEK plastic that protrudes only 18 millimeters into the container or tube to avoid flow blockages or undesirable shadow casting.

For more information on Baumer's LBFS sensor for the beverage industry, contact Baumer Ltd. at 800-937-9336 or via email at sales.us@baumer.com.

The Baumer Group is a leading international manufacturer of sensors and system solutions for factory and process automation. In 2011, the innovative family-owned company employs about 2,500 people worldwide in 36 locations and 18 countries. The long lasting success is built on high customer focus as well as the innovative and diversified product range of the product segments Sensor Solutions, Motion Control, Vision Technologies, Process Instrumentation, and Gluing Systems. For further information please refer to www.baumer.com.