Latest ETX® Module with Dual-core 32nm Process Intel® Atom™ Processor and NM10 Express Chipset
rong>The ETX-CV delivers higher performance and lower power consumption to open a seamless upgrade path and prolong the lifetime of ETX-based systems

SAN JOSE, CA – ADLINK Technology, Inc., a leading global provider of trusted embedded products, announces the ETX-CV, the newest member of its Computer on Module (COM) family. Based on the latest dual-core 32nm process Intel® Atom™ Processor and NM10 Express Chipset, the ETX-CV represents ADLINK's commitment to serve its ETX® customer base with continuing product development. The ETX-CV is targeted at replacing current entry-level and older high-performance ETX modules (up to Intel® Core™ Duo Processor L2400). Power consumption ranges between 6 and 12 watts and is much lower than that of previous-generation products.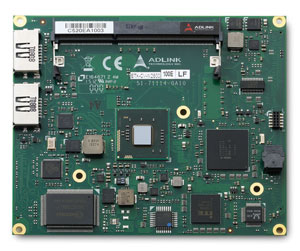 Entry Level Intel-based ETX Module
The ETX-CV is positioned as an entry level ETX module for generic system but also for systems that require a full set of graphics features. The module comes with integrated support for high VGA up to 1920 x 1200 resolution (WUXGA), single/dual channel 18/24-bit LVDS and onboard DisplayPort connector. The ETX-CV conforms to the latest ETX 3.02 specification and provides two additional onboard SATA connectors while maintaining full backward compatibility with earlier ETX standards. Operating system support includes Windows XP, Windows XP Embedded, Windows 7, WinCE, and Linux. Primary focus is for applications in medical diagnostics and imaging, gaming, industrial automation, test and measurement, point-of-sale (POS), and industrial control.

Reduced Power Consumption
The dual-core Intel® Atom™ Processor N2000 and D2000 Series on the ETX-CV replaces the previous generation Intel® Atom™ processors N4xx/N5xx. Although much smaller in size, Intel® Atom™ processors share the same architecture as Intel® Core™2 Duo processors and additionally support Hyper Threading Technology, allowing more than one code thread to be executed at the same time on a single core. The ETX-CV's thermal design and powerful CPU core allow it to provide the same or even better performance than earlier generation modules at more modest power consumption.

ETX-CV Feature Set
The ETX-CV supports up to 4 GB of DDR3 memory on a single SODIMM, incorporates an Intel-based 10/100BASE-T Ethernet port, and provides dual channel IDE, two channels SATA, four USB 2.0 ports, two serial ports, one parallel port shared with floppy, one PS/2 keyboard/mouse interface, and HD audio. The ETX-CV fully supports PCI and legacy ISA based on high-speed PCI/ISA bridge and is equipped with an AMI Aptio BIOS supporting embedded features such as: Remote Console, CMOS backup for battery-less operation, CPU and System Monitoring, and Watchdog Timer.

ADLINK's Full Computer on Module Product Line
ADLINK's complete Computer on Module product family includes ETX modules for PCI/ISA-oriented designs and COM Express modules for PCI Express / PCI designs with optional legacy support through LPC. To evaluate or test our modules, Starter Kits with fully assembled system, cabling, and software or reference carrier boards in ATX form factor are available.

Carrier Board Design and Manufacturing Support
ADLINK provides schematics, mechanical files, design guides, BSPs, I2C libraries, R&D support, product review service, and BIOS customization for companies that are doing their own carrier board design. ADLINK also offers full development and/or production services for those who wish to outsource their carrier board / system design and/or manufacturing.

For more information, please go to http://www.adlinktech.com/Computer-on-Module/.

About ADLINK
ADLINK Technology provides a wide range of embedded computing products and services to the test & measurement, automation & process control, gaming, communications, medical, network security, and transportation industries. ADLINK products include PCI Express-based data acquisition and I/O; vision and motion control; and AdvancedTCA, CompactPCI, and computer-on-modules (COMs) for industrial computing. With the acquisition of Ampro Computers, Inc. and LiPPERT Embedded Computers GmbH, ADLINK also provides a wide range of rugged by design Extreme Rugged™ and Rugged product lines including single board computers, COMs and systems.

ADLINK strives to minimize the total cost of ownership (TCO) of its customers by providing customization and system integration services, maintaining low manufacturing costs, and extending the lifecycle of its products. ADLINK is a global company with headquarters and manufacturing in Taiwan; R&D and integration in Taiwan, China, the US, and Germany; and an extensive network of worldwide sales and support offices.
ADLINK is ISO-9001, ISO-14001, ISO-13485 and TL9000 certified, is an Associate Member of the Intel® Intelligent System Alliance, an Executive Member of PICMG, a Sponsor Member of the PXI Systems Alliance, and a Strategic Member of the AXIe Consortium. ADLINK is a publicly traded company listed on the TAIEX Taiwan Stock Exchange (stock code: 6166).

Media Contact:
Monica Lanctot
N. America Marketing Department
ADLINK Technology, Inc.
Phone: +408-360-4337

Embedded Vision
This content is part of the Embedded Vision curated collection. To learn more about Embedded Vision,
click here
.