Latest Blackfly® GigE Vision™ Camera with 1.3 MP CCD from Sharp Corporation Sets New Standard for Low Cost Imaging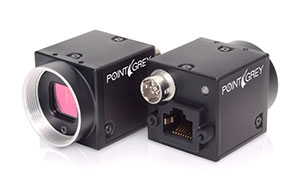 Richmond, BC, Canada – Point Grey, a global leader in the design and manufacturing of innovative, high-performance digital cameras, today announced the addition of a new 1.3 megapixel Sharp CCD model to its Blackfly family of GigE Vision™ cameras.
The latest Blackfly BFLY-PGE-13H2 camera models are based on the Sharp RJ33J4CA3DE (mono) and RJ33J3CA3DE (color) 1/3" global shutter CCD sensors. These camera models are capable of streaming 1288 x 964 resolution images at 30 FPS. Sharp Corporation has developed a proprietary CCD technology that provides improved sensitivity and image quality compared with conventional CCDs. Its unique microlens design collects light more efficiently resulting in improved quantum efficiency in the visible and near infrared regions.
The Blackfly supports cable lengths of up to 100 meters using Gigabit Ethernet, is compatible with GigE Vision third-party applications and provides a host of features including Power over Ethernet, temperature and status monitoring, in-field updatable firmware, color interpolation, look up table, gamma correction, pixel binning functionality, and much more.
"Sharp's image sensor business has seen significant growth this year and we're excited to expand our product portfolio with additional Sharp CCD sensors", says Michael Gibbons, Vice President of Sales and Marketing at Point Grey. "This sensor has the same optical format and pixel size as the popular Sony ICX445 and delivers similar imaging performance at a lower price, making it ideal for industrial applications such as factory automation, inspection and 3D scanning."
The BFLY-PGE-13H2 is list priced at $265/€199 and is Point Grey's lowest priced Blackfly camera to date, available to order now from Point Grey, its network of distributors, and the online store (for North American, Australian, and EU customers).
About Point Grey
Point Grey Research, Inc. is a global leader in the design and manufacturing of innovative, high-performance digital cameras for industrial, scientific, medical, traffic, and security applications. We offer a unique and comprehensive portfolio of USB3 Vision, GigE Vision, FireWire, USB 2.0 and Camera Link products known for their outstanding quality, ease of use, and unbeatable price-performance. Point Grey was founded in 1997 and is based in Richmond, Canada. A broad range of hardware, software and mechanical engineering skills under one roof has allowed Point Grey to successfully bring many innovative and ground-breaking products to market. This drive for innovation has led to many industry firsts, including the world's first and smallest 1394b digital camera, the smallest GigE camera, and the first USB 3.0 machine vision camera. Point Grey currently employs over 250 people and has international offices in Germany, China, Japan, and Italy. The company also has a strong network of distributors in Japan, Korea, Singapore, China, Taiwan and the United Kingdom.
About Sharp
Sharp Corporation is a worldwide developer of innovative products and core technologies that play a key role in shaping the future of electronics. As a leader in liquid crystal displays (LCDs) and digital technologies, Sharp offers one of the broadest and most advanced lines of consumer electronics, information products and electronic components, while also creating new network businesses. Sharp Corporation employs 50,213 people in the world (as of December 31, 2014) and recorded consolidated annual sales of 2,927,186 million yen for the fiscal year ended March 31, 2014.
Company Contact
Renata Sprencz - Marketing Communications Manager
Tel: +1.604.242.9937