Laser Components Extends Proprietary FLEXPOINT® MV Series with Proven Fiber-Coupled Technology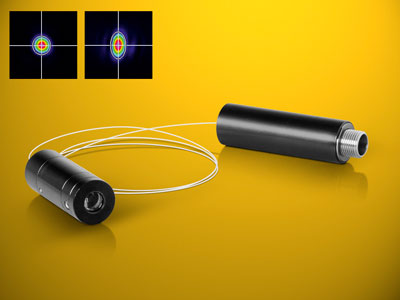 New MVfiber Model Produces Superior Beam Shape over Single-Mode Fiber
Bedford, NH - The MVfiber laser module drives machine vision systems to new heights. The singlemode fiber reduces scattered laser light and prevents side modes, which results in precise laser projection in 3D measurements, biophotonics and medical applications.
"We see a growing interest in laser modules for machine vision", contributes Gary Hayes, CEO Laser Components USA. "New applications are opening up to lasers, because of the ease of use and affordability. It is therefore important to continually offer new application-specific models. This is where we make the difference and where we want to grow further".
Stable Laser Output
The MVfiber achieves outstanding laser beam stability, due to the remote connection between the beam-shaping optics and the active laser part. The thermal drift is reduced to nearly zero, optimizing the performance of the electro-optical system.
Designed for laser-based machine vision
The laser module is particularly suited for OEM system integration when a compact design and remote beam delivery are critical factors. The laser part and the optical head can be ordered separately, which offers high flexibility to the customer in designing his laser projection system.
FLEXPOINT® MV quality label
All FLEXPOINT® MV models meet the highest quality standards and can be customized according to the requirements of the application. The MVfiber laser modules are introduced to the market at the wavelengths of 450nm and 660nm with an optical power output of up to 50mW. Standard FC/PC connectors are used. The optic head can be equipped with different beam profiles, such as homogeneous lines, lines with a Gaussian distribution, dot projections, and more than 60 different DOE optics that produce parallel lines, dot matrices, circles, and the like.
About LASER COMPONENTS USA
LASER COMPONENTS USA – part of the LASER COMPONENTS GROUP – specializes in sales, distribution and marketing of components in the laser and optoelectronics industry. We have been serving customers over 15 years in North America with products from our manufacturing sites in Germany, Canada and the US, as well as from well-selected international suppliers. We serve a wide variety of photonics applications with avalanche photodiodes and modules (Si and InGaAs), IR detectors (InGaAs, PbS, PbSe, pyroelectric), photon counting modules, laser diodes and modules (at different wavelengths and power), pulsed laser diodes (905 and 1550 nm), laser diode drivers, laser optics (standard or custom dielectric coated) and polarizers.