Lanco Integrated - Nominated for 2019 Product of the Year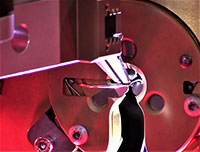 The Assembly Magazine's editors have nominated Lanco Integrated for Product of the Year: The Needle Suture Attachment, Winding and Packaging Machine in the category Assembly Machines & Systems.
What makes the Lanco Integrated Needle Suture Attachment, Winding and Packaging machine innovative, is that all tasks, partnered with in-process testing, are neatly packaged into one machine. Lanco has designed a fully automatic assembly system for medical surgical suture kits, with the adaptive flexibility to accommodate variable needle gauges and thread diameters, with vision guided motion ability that improves production capability, and quality control. There are over 25 inspections throughout the process.
Lanco Integrated has engineered a flexible machine that can accommodate any surgical gauge needle or sutures, from USP 1 through 4/0, with a length range of 45 -120 cm, monofilament or braided. The machine automatically accommodates the different types and system settings required with full recipe tooling and data integrated management. Machine guided vision optimizes flexibility around needle selection, handling, crimp alignment and inspection.
The Needle Suture Attachment, Winding and Packaging machine performs suture needle attachment with integrated pull test, and 360° vision inspection of each product to assure joint quality, all while operating at a speed of 900 PPH. The automation around the packaging optimizes the wind with needle control, which enhances the experience for the medical practitioner.
For the final phase of the process, the system allows for privatized labeling with batch and lot # recordings, with database capabilities. Lanco Integrated takes it one step further by partnering with customers to attain GAMP5 and TUV validation.