KUKA Systems Launches Ground-breaking Application Systems to Build Better Cars
Ste

rling Heights, MI | Augsburg, Germany – KUKA Systems, a world leader in assembly line innovation, has unveiled two automated application technolo-gies that will benefit automobile manufacturers as well as the environment. The two technologies were developed in-house with the encouragement of a Euro-pean-based,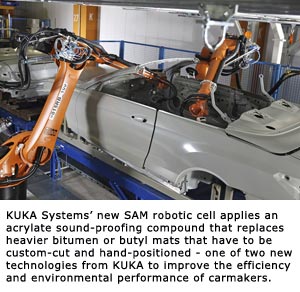 global automobile manufacturer that has signed on as launch cus-tomer for both.

1. SAM: Injectable acoustic insulating compound
KUKA Systems' SAM technology allows automakers to use an acrylate acoustic insulating compound for vehicle sound-proofing, applied by a robotic cell, in place of the traditional bitumen or butyl mats that have to be custom-cut and hand-positioned. The robot cell consists of three KUKA KR 30 L16 industrial robots that apply the substance to doors, tailgates and other car parts on the assembly line. Acrylate is not only more environmentally friendly than bitumen mats, but also lighter. The automated application system is flexible enough to adjust to any vehicle type or model. It's also highly reliable, having achieved over 98% operational availability in a three-shift-a-day environment.

2. HRK: enhanced application of corrosion protection
The HRK process consists of point-by-point and sequential wax application for corrosion protection. Using a dual, automated sweep makes it possible to cover a larger area in less time than ever. The in-line nozzle cleaning performed dur-ing the process is an industry first, and is both resource-conserving and envi-ronmentally friendly, employing a water bath and automated disposal of the cleaning fluid.

"These technological breakthroughs underscore KUKA Systems' commitment to be out front supporting our customers with technology that maximizes produc-tion efficiency and environmental performance," says Larry Drake, president and CEO of KUKA Systems Group. "It also speaks to the decades of experience KUKA Systems has in developing bonding and sealing technology. Advanced solutions like these will play an increasingly important role in delivering the vehi-cles of tomorrow that must be stronger yet lighter and quieter to meet more stringent emissions and safety standards, while still appealing to car buyers."

Advanced bonding processes are indispensable for composite materials con-struction of the future, such as joining plastic to steel or steel to aluminum that cannot be welded together. The advantages include a uniform distribution of tension and application of force over the entire bonding surface. The adhesive and sealant has the additional properties of serving as an electrical insulator and providing protection against corrosion. "There are many good reasons for the automated application of adhesives and sealants," says Gerhard Hartmann, Product Group Manager for Technology Solutions at KUKA Systems. "The qual-ity with which the adhesive and sealant bead is applied remains constant. Differ-ent seam geometries can be generated quickly and easily, and the application is carried out with high speed and precision."

KUKA Systems was one of the first production line builders to implement bond-ing and sealing technology for the key stages of automobile manufacturing: body-in-white production, paintwork and final assembly. The company devel-oped its first bonding solutions 26 years ago. One of the first was glass bonding in the final assembly of vehicles.

About KUKA Systems
KUKA Systems Group, headquartered in Augsburg, Germany and US-based in Sterling Heights, Michigan, is a leading global supplier of flexible automation systems for the automotive, aerospace, energy, logistics and other industries. A workforce of more than 3,500 around the world works on ideas, concepts and solutions for automated production, and supplies products and services for virtually all tasks in the industrial processing of metallic and non-metallic materials. The company's products and services are presented and marketed by subsidiaries and sales offices in Europe, the Americas and Asia. In 2010 KUKA Systems posted a total order volume of around €695 million.